Here is everything you need to know about the amazing Disney movie Camp Rock including casting, reviews, fun facts and more. I hope you find this listing informative and helpful!
Camp Rock Description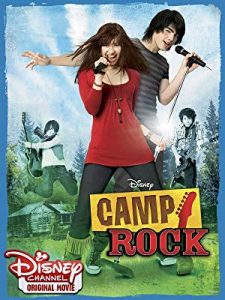 "Camp Rock" is a Disney Channel Original Movie (DCOM) that premiered in 2008. It follows the story of Mitchie Torres, a talented but shy teenage girl played by Demi Lovato, who dreams of becoming a singer. When her mother gets a job as the camp's cook, Mitchie gets the chance to attend the prestigious Camp Rock, a music camp for aspiring musicians.
At Camp Rock, Mitchie meets and befriends several other campers, including the confident and famous pop star Shane Gray, portrayed by Joe Jonas. Shane, struggling with his own fame and pressure from the music industry, finds solace and genuine connection in Mitchie's music.
As the summer progresses, Mitchie's talent begins to shine, and she forms a band with her new friends. But when her secret about her mother's job is accidentally revealed, she faces challenges and the risk of losing the trust and friendships she has made. Shane, who was initially skeptical of Mitchie's motives, begins to see her for who she truly is and supports her through her struggles.
The climax of the movie centers around the Final Jam, a music competition where the campers showcase their talents. During this event, Mitchie overcomes her fears and insecurities, performs with confidence, and wins the admiration of everyone, including Shane.
"Camp Rock" features several catchy and memorable songs, such as "This Is Me," "Gotta Find You," and "We Rock," performed by the cast, including Demi Lovato and the Jonas Brothers. The film's musical numbers, along with its positive messages about being true to oneself, following dreams, and the importance of friendship, resonated with its young audience, making it a huge success.
The movie's popularity led to a sequel, "Camp Rock 2: The Final Jam," which continued the story of Mitchie and her friends as they faced new challenges and competed against a rival camp. "Camp Rock" remains a beloved DCOM and has cemented its place as one of the iconic Disney Channel movies that many fans still cherish and enjoy today.
---
Camp Rock Cast:
Demi Lovato: Mitchie Torres
Joe Jonas: Shane Gray
Meaghan Martin: Tess Tyler
Alyson Stoner: Caitlyn Gellar
Maria Canals-Barrera: Connie Torres
Daniel Fathers: Brown Cessario
Julie Brown: Dee La Duke
Anna Maria Perez de Taglé: Ella Pador
Jasmine Richards: Margaret "Peggy" Dupree
Jordan Francis: Barron James
Roshon Fegan: Sander Loyer
Nick Jonas: Nate Gray
Kevin Jonas: Jason Gray
Aaryn Doyle: Lola Scott
Giovanni Spina: Andy
Edward Jaunz: Steve Torres
Jennifer Ricci: T.J. Tyler
---
Camp Rock Crew:
Writers: Karin Gist, Regina Hicks, Julie Brown, Paul Brown
Director: Matthew Diamond
Producer: Kevin Lafferty
---
Camp Rock Details
Movie Studio: Disney
Type of Movie: Live Action
Movie Platform: Disney Channel Original Movie
Camp Rock Trailer:
---