Here is everything you need to know about the amazing Disney movie Doug's 1st Movie including casting, reviews, fun facts and more. I hope you find this listing informative and helpful!
Doug's 1st Movie Description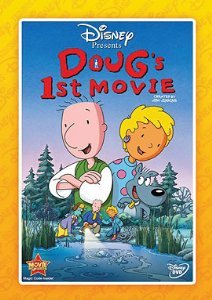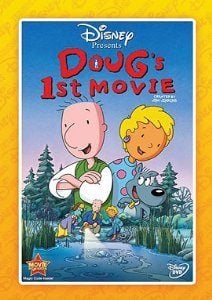 In Doug's 1st Movie, Doug Funnie and his friends find a 'monster' named Herman Melville, who lives in the woods outside their town. But after they find out that the monster is actually kind of nice, not like a real monster at all, they suddenly find themselves hunted by bad guys, who want to capture the monster for their own evil purposes. In the midst of all this, the school dance is coming up and Doug has to compete with a snobby eighth-grader named Guy Graham for the attentions of Patti Mayonnaise. Will Doug save the monster from the bad guys and still get to take Patti to the Valentine's Day dance?
---
Doug's 1st Movie Cast:
Tom McHugh: Doug Funnie, Lincoln
Fred Newman: Skeeter Valentine, Mr. Dink, Porkchop, Ned
Chris Phillips: Roger Klotz, Boomer, Larry, Mr. Chiminy
Constance Shulman: Patti Mayonnaise
Frank Welker: Herman Melville
Alice Playten: Beebe Bluff, Elmo
Guy Hadley: Guy Graham
Doug Preis: Mr. Funnie, Mr. Bluff, Willie, Chalky, Bluff Agent
Eddie Korbich: Al & Moo Sleech, Robocrusher
David O'Brien: Quailman Announcer
Doris Belack: Mayor Tippi Dink
Becca Lish: Judy Funnie, Mrs. Funnie, Connie
Greg Lee: Principal White
Bob Bottone: Bluff Assistant
Bruce Bayley Johnson: Mr. Swirly
Fran Brill: Mrs. Elaine Perigrew
Melissa Greenspan: Briar Langolier
Additional voice artists
Rodger Bumpass: Green Police Officer
Paul Eiding: Red Police Officer
Jackie Gonneau: Kid #1
Sherry Lynn: Kid #2
Mickie McGowan: Lunch Lady
Phil Proctor: Brian the A/V Nerd
Brianne Siddall: Kid #3
Claudette Wells: Kid #4
---
Doug's 1st Movie Crew:
Director: Maurice Joyce
Producers: David Campbell, Melanie Grisanti, Jim Jinkins, Bruce Knapp and Jack Spillum
Music: Mark Watters
---
Doug's 1st Movie Details
Doug's 1st Movie Trailer:
---