Here is everything you need to know about the amazing Disney movie Halloweentown High including casting, reviews, fun facts and more. I hope you find this listing informative and helpful!
Halloweentown High Description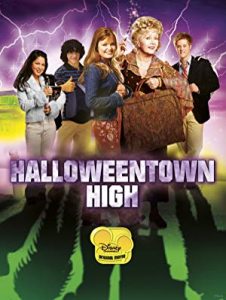 "Halloweentown High" is the third installment in the popular "Halloweentown" movie series, which is a collection of Disney Channel Original Movies. The film was released in 2004 and follows the adventures of Marnie Piper (played by Kimberly J. Brown), a teenage witch with magical powers, as she continues her journey in the supernatural world of Halloweentown.
In "Halloweentown High," Marnie has grown more confident in her magical abilities and wants to bridge the gap between the mortal world and Halloweentown by bringing some of her Halloweentown friends to attend a high school exchange program in her hometown. She believes that by fostering understanding and friendship between the two worlds, they can live in harmony.
However, not everyone in the mortal world is accepting of magical creatures. There is a group of humans known as the "Anti-Halloweentown" group, who are skeptical and fearful of the supernatural beings. They believe that bringing magical creatures to the mortal world is dangerous and could lead to chaos.
As Marnie struggles to prove that the magical beings can peacefully coexist with humans, she faces opposition from the "Anti-Halloweentown" group and must find a way to protect her friends and bring unity between the two worlds.
The movie explores themes of tolerance, acceptance, and the importance of embracing differences. It also delves into the challenges of integrating different cultures and beliefs in a diverse society. Throughout the film, Marnie demonstrates leadership and determination in her quest to create a better understanding between the magical and mortal worlds.
"Halloweentown High" continues the magical and enchanting adventures that the franchise is known for, with a mix of fantasy, adventure, and comedy. The movie appeals to a wide audience, especially those who enjoy Halloween-themed films with a positive message. It remains a favorite among fans of the "Halloweentown" series and has become a Halloween tradition for many Disney Channel viewers.
---
Halloweentown High Cast:
Kimberly J. Brown: Marnie Piper
Debbie Reynolds: Agatha "Aggie" Cromwell
Joey Zimmerman: Dylan Piper
Emily Roeske: Sophie Piper
Judith Hoag: Gwen Piper
Lucas Grabeel: Ethan Dalloway
Michael Flynn: Edgar Dalloway
Finn Wittrock: Cody
Eliana Reyes: Cassie
Clifton Davis: Principal Phil Flannigan
Todd Michael Schwartzman: Pete the werewolf
Clayton Taylor: Chester's human disguise
Olesya Rulin: Natalie the pink troll
Bob Lanoue: Bobby the gremlin
Jeff Olson: the six-armed man
Frank Gerrish: a pumpkin head
Mowava Pryor: a vampire
Aaron Justesen: a mummy
---
Halloweentown High Crew:
Director: Mark A.Z. Dippé
Producer: Don Schain
---
Halloweentown High Details
Movie Studio: Disney
Year Released: 2004
Type of Movie: Live Action
Movie Platform: Disney Channel Original Movie
Halloweentown High Trailer:
---