Here is everything you need to know about the amazing Disney movie John Carter including casting, reviews, fun facts and more. I hope you find this listing informative and helpful!
Description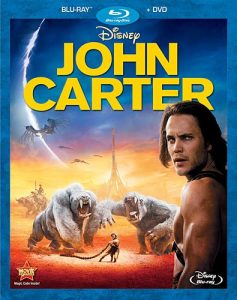 "John Carter" is a Disney live-action science fiction film released in 2012. It is based on the novel "A Princess of Mars" by Edgar Rice Burroughs, which was published in 1912. The film was directed by Andrew Stanton and marked his first foray into live-action filmmaking, having previously directed successful animated films for Pixar like "Finding Nemo" and "WALL-E."
The movie follows the adventures of John Carter, a Civil War veteran who finds himself transported to the planet Mars, known as Barsoom by its inhabitants. Upon arriving on Mars, Carter discovers that the planet is inhabited by various alien species and is engulfed in a conflict between different city-states.
Due to Mars' lower gravity, Carter finds himself possessing superhuman strength and agility, making him a formidable warrior in this new world. He becomes entangled in the affairs of the planet's inhabitants and is drawn into a war between two factions: the city of Helium, led by Princess Dejah Thoris, and the rival city of Zodanga, led by Sab Than.
As the story unfolds, Carter must navigate the treacherous political landscape of Barsoom and use his newfound abilities to protect the planet from a potential cataclysm. Along the way, he forms a bond with Dejah Thoris and becomes a crucial figure in the survival of the planet and its inhabitants.
"John Carter" is notable for its stunning visual effects and action sequences, which brought the Martian world to life on the big screen. However, the film faced mixed critical reception upon its release and was considered a box office disappointment, failing to recoup its massive production budget.
Despite its initial commercial struggles, "John Carter" has gained a cult following over the years, with some viewers appreciating its adventurous and imaginative storytelling. The film's legacy lies in its influence on the science fiction genre and its faithful adaptation of Edgar Rice Burroughs' classic novel.
While "John Carter" might not have achieved the commercial success Disney hoped for, it remains an ambitious and visually captivating cinematic experience that has left a mark on the science fiction landscape.
---
Cast:
Taylor Kitsch: John Carter
Bryan Cranston: Colonel Powell
Daryl Sabara: Edgar Rice Burroughs
Don Stark: Dix
Nicholas Woodeson: Dalton
Lynn Collins: Dejah Thoris
Dominic West: Sab Than
Ciarán Hinds: Tardos Mors
James Purefoy: Kantos Kan
Art Malik: Zodangan General
Willem Dafoe: Tars Tarkas
Samantha Morton: Sola
Polly Walker: Sarkoja.
David Schwimmer: young Thark Warrior
Jon Favreau: the Thark bookmaker
Mark Strong: Matai Shang
Phil Cheadle: Thern in Cave
Philip Philmar: Thern #1
James Embree: Thern #2
---
Crew:
Director: Andrew Stanton
Producers Jim Morris, Colin Wilson and Lindsey Collins
Music: Michael Giacchino
---
Additional Details
---
John Carter Trailer:
---