Here is everything you need to know about the amazing Disney movie Saludos Amigos including casting, reviews, fun facts and more. I hope you find this listing informative and helpful!
Saludos Amigos Description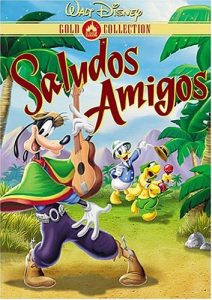 "Saludos Amigos" is a Walt Disney animated film released in 1942. It is the sixth animated feature film produced by Disney and the first of several package films created during the 1940s. The film was designed as a goodwill gesture to South American countries during World War II.
"Saludos Amigos" consists of a series of animated segments connected by live-action sequences. The film follows the journey of Disney artists and characters, including Donald Duck and Goofy, as they travel to various South American countries to learn about their culture and create animated shorts inspired by the places they visit.
The animated segments feature colorful and vibrant visuals, showcasing the unique landscapes and cultural traditions of countries like Brazil, Argentina, Chile, and Peru. Each segment is accompanied by lively music, dancing, and engaging storytelling.
The film's segments include "Lake Titicaca," where Donald Duck has a humorous encounter with a stubborn llama; "Pedro," a story about a small airplane trying to deliver mail in the Andes; "El Gaucho Goofy," in which Goofy tries to learn the ways of a traditional Argentine cowboy; and "Aquarela do Brasil," a lively tribute to Brazilian culture and music.
"Saludos Amigos" was well-received by audiences and critics, and it helped to strengthen ties between the United States and South American countries during a challenging time in history. It also introduced American audiences to South American culture and folklore, further enriching the diversity of Disney's storytelling.
The film's success led to a follow-up package film called "The Three Caballeros," released in 1944, which further explored Latin American culture and became another beloved classic.
Today, "Saludos Amigos" remains a cherished part of Disney's filmography, not only for its artistic merits but also for its historical significance as a bridge of friendship between different cultures. It serves as a reminder of the power of animation to entertain and educate audiences while promoting cross-cultural understanding and appreciation.
---
Saludos Amigos Cast:
Lee Blair: Himself
Mary Blair: Herself
Pinto Colvig: Goofy
Walt Disney: Himself
Norman Ferguson: Himself
Frank Graham: Himself
Clarence Nash: Donald Duck
José Oliveira: José Carioca
Fred Shields: Narrator
Frank Thomas: Himself
Stuart Buchanan: Flight attendant
---
Saludos Amigos Crew:
Directors: Norman Ferguson, Wilfred Jackson, Jack Kinney, Hamilton Luske and Bill Roberts
Producer: Walt Disney
Music: Fred Shields
Writers: Homer Brightman, William Cottrell, Richard Huemer, Joe Grant, Harold Reeves, Ted Sears, Webb Smith, Roy Williams and Ralph Wright
---
Saludos Amigos Details
Saludos Amigos Trailer:
---