Here is everything you need to know about the amazing Disney movie Swiss Family Robinson including casting, reviews, fun facts and more. I hope you find this listing informative and helpful!
Swiss Family Robinson Description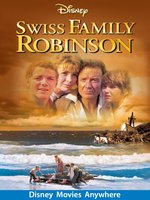 Swiss Family Robinson is a classic adventure film produced by Walt Disney Productions and released in 1960. It is based on the 1812 novel "The Swiss Family Robinson" by Johann David Wyss.
The film follows the Robinson family, a Swiss family consisting of the father, Fritz, the mother, Elizabeth, and their three sons, Fritz, Ernst, and Francis. They are shipwrecked on a deserted island in the South Pacific after their ship is caught in a storm. They manage to salvage supplies from the ship and use their resourcefulness and survival skills to build a makeshift home and create a new life on the island.
The family faces numerous challenges and adventures on the island, including encounters with wild animals, pirates, and hostile natives. They build a treehouse as their home, and through hard work and ingenuity, they create a self-sufficient life for themselves. The film celebrates the spirit of family unity, courage, and determination as the Robinsons learn to adapt to their new surroundings and bond together in the face of adversity.
Swiss Family Robinson is known for its breathtaking tropical landscapes, exciting action sequences, and a heartwarming portrayal of family bonds. The film was directed by Ken Annakin and starred John Mills as the father, Dorothy McGuire as the mother, and James MacArthur, Tommy Kirk, and Kevin Corcoran as the three sons.
The film was a commercial success upon its release and has since become a beloved classic for Disney fans of all ages. It remains a popular family film, known for its timeless appeal and inspiring message of survival, resilience, and the importance of family.
In addition to its impact on popular culture, Swiss Family Robinson has also inspired various adaptations and spin-offs, including television series, books, and theme park attractions. The film's legacy continues to endure as a testament to the power of family, adventure, and the indomitable human spirit.
---
Swiss Family Robinson Fun Facts
The movie was based on the novel Der Schweizerische Robinson by Johann David Wyss.
Walt Disney decided to do his own version of the story after watching the 1940 version (NOT a Disney movie).
The movie was filmed in Tobago.
The iconic tree house remained in Tobago until it was destroyed by a hurricane in 1963.
This was the highest grossing film of 1960.
---
Swiss Family Robinson Cast:
John Mills: Father Robinson
Dorothy McGuire: Mother Robinson
James MacArthur: Fritz Robinson
Janet Munro: Roberta
Sessue Hayakawa: Kuala
Tommy Kirk: Ernst Robinson
Kevin Corcoran: Francis Robinson
Cecil Parker: Captain Moreland
Andy Ho: Auban
Milton Reid: Big Pirate
Larry Taylor: Battoo
---
Swiss Family Robinson Crew:
Director: Ken Annakin
Producers: Bill Anderson, Basil Keys and Walt Disney
Music: William Alwyn
---
Swiss Family Robinson Details
Swiss Family Robinson Trailer:
---