Here is everything you need to know about Walt Disney World's Magic Kingdom's Swiss Family Treehouse attraction including history, fun facts, photos and more. I hope you find this listing informative and helpful!
Swiss Family Treehouse | Disney World Description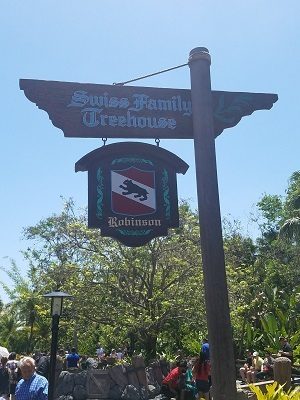 Explore the ultimate treehouse—and behold breathtaking views—in Swiss Family Treehouse: inspired by the classic Disney film.
Embark on a breezy walk-though tour of the Robinson's famous home nestled high inside a towering tree.
Cross a bridge at the foot of a large leafy tree and climb handcrafted wooden stairs as you explore the famed living quarters of the Swiss Family Robinson and learn of their island adventure.
Discover open-air rooms—brimming with a bevy of 19th-century articles salvaged from the famous shipwreck—including:
The Living Room Mahogany furniture, dishware and an organ mingle alongside the large wheel from the shipwrecked Swallow ship.
The Kitchen and Dining Room A clamshell sink, a volcanic stone hearth and oven, and a table with benches are just some of the more modern conveniences you'll see.
The Crow's Nest See the living quarters of sons Fritz, Ernst and Francis, complete with hammocks, a ragged chest and strewn clothing.
Study/Library Home to antique books, a desk, a handmade bamboo chair and a lantern, this is where the Robinsons came to feed their minds and their souls.
Jungle Lookout Boasting panoramic views from the top of the tree, this perch provided the Robinsons with serenity during their stay on the island.
At the base of the tree, a large wooden wheel gathers water from a stream and carries it up to the various rooms inside the treehouse.
View at the Top
Those who reach the summit of the treehouse will enjoy 360-degree views of Adventureland and Magic Kingdom park, particularly the river on which the Jungle Cruise boats sail. At over 6 stories high, it's a spectacular sight to see! (source)
---
Swiss Family Treehouse | Disney World Fun Facts
The old Swan Boats ride used to actually circle the Treehouse in the moat.
There are 116 steps in the treehouse.
---
Swiss Family Treehouse | Disney World Details
---