Here is everything you need to know about the amazing Disney movie The Apple Dumpling Gang  including casting, reviews, fun facts and more. I hope you find this listing informative and helpful!
The Apple Dumpling Gang  Description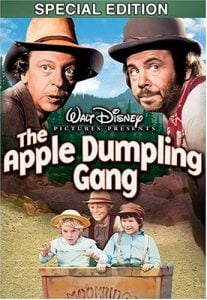 In Disney's The Apple Dumpling Gang, the hilarity begins when a roving bachelor inherits three young orphans and a wealth of problems. When the youngsters stumble upon a huge golden nugget, they must fend off the greedy townspeople. So the kids join forces with the bumbling outlaws to stage a robbery of the gold.
---
The Apple Dumpling Gang  Cast:
Bill Bixby: Russell Donovan
Susan Clark: Magnolia Dusty Clydesdale
Don Knotts: Theodore Ogelvie
Tim Conway: Amos Tucker
David Wayne: Col. T.R. Clydesdale
Slim Pickens: Frank Stillwell
Harry Morgan: Homer McCoy
John McGiver: Leonard Sharpe
Don Knight: John Wintle
Clay O'Brien: Bobby Bradley
Brad Savage: Clovis Bradley
Stacy Manning: Celia Bradley
Dennis Fimple: Rudy Hooks
Pepe Callahan: Clemons
Iris Adrian: Poker Polly
Fran Ryan: Mrs. Stockley
Bing Russell: Herm Dally
James E. Brodhead: The Mouthpiece
Jim Boles: Easy Archie
Olan Soule: Rube Cluck
Tom Waters: Rowdy Joe Dover
Dawn Little Sky: Big Foot
Joshua Shelley: Broadway Phil
Richard Lee-Sung: Oh So
Arthur Wong: No So
Dick Winslow: Slippery Sid
Bill Dunbar: Fast Eddie
Wally Berns: Cheating Charley
The Apple Dumpling Gang  Details
The Apple Dumpling Gang  Trailer:
Buy Movie
---
---