Here is everything you need to know about the amazing Disney movie Tinker Bell and the Great Fairy Rescue including casting, reviews, fun facts and more. I hope you find this listing informative and helpful!
Description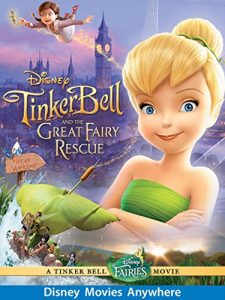 "Tinker Bell and the Great Fairy Rescue" is a 2010 animated fantasy film produced by DisneyToon Studios and released by Walt Disney Studios Home Entertainment. It is part of the Tinker Bell film series, which revolves around the adventures of Tinker Bell and her fairy friends from Pixie Hollow.
In this installment, Tinker Bell becomes fascinated with the stories about humans, despite the fairies' strict rule of never interacting with them. While attempting to fix a broken teapot, Tinker Bell is accidentally captured by a human girl named Lizzy Griffiths. Lizzy is a young and adventurous girl who is intrigued by fairies and believes in their existence. She keeps Tinker Bell in a jar as she excitedly shares her discovery with her father, Dr. Griffiths, an enthusiastic scientist.
Tinker Bell's friends from Pixie Hollow, led by Silvermist, Rosetta, Iridessa, Fawn, and Vidia, set out on a daring rescue mission to save her. While in captivity, Tinker Bell develops an unexpected friendship with Lizzy, and together they learn about each other's worlds. As Tinker Bell's fairy friends race against time to free her, they face challenges that test their courage and teamwork.
The film explores themes of friendship, trust, and understanding between two different worlds. It emphasizes the importance of compassion and empathy, as both Tinker Bell and Lizzy learn to appreciate each other's perspectives and form a deep bond.
"Tinker Bell and the Great Fairy Rescue" showcases a heartwarming adventure that showcases the enduring spirit of friendship and the magic of believing in the unseen. The film continues the charm and enchantment of the Tinker Bell film series, captivating audiences of all ages with its captivating storytelling and beautiful animation.
---
Cast:
Mae Whitman: Tinker Bell
Lauren Mote: Lizzy Griffiths
Michael Sheen: Dr. Griffiths
Pamela Adlon: Vidia
Lucy Liu: Silvermist
Raven-Symoné: Iridessa
Kristin Chenoweth: Rosetta
Angela Bartys: Fawn
Rob Paulsen: Bobble
Jeff Bennett: Clank
Jesse McCartney: Terence
Cara Dillon: the Narrator
Faith Prince: Mrs. Perkins
Bob Bergen: Cheese the mouse

---
Crew:
Director: Bradley Raymond
Producers: Helen Kalafatic and Margot Pipkin
Music: Joel McNeely
---
Additional Details
---
Tinker Bell and the Great Fairy Rescue Trailer:
---