Here is everything you need to know about Walt Disney World's Magic Kingdom's extinct Tinker Bell's Magical Nook attraction including history, fun facts, photos and more. I hope you find this listing informative and helpful!
Tinker Bell's Magical Nook | Disney World Description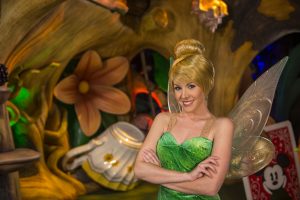 Tinker Bell's Magical Nook was a charming and whimsical meet-and-greet location at Walt Disney World Resort, Florida, where guests had the enchanting opportunity to meet one of Disney's most beloved fairies, Tinker Bell.
Located in the Magic Kingdom theme park, Tinker Bell's Magical Nook provided a delightful and immersive experience for fans of Peter Pan and the magical world of Pixie Hollow. The nook was beautifully designed to resemble a cozy hideaway, complete with sparkling fairy dust and lush foliage, creating an inviting atmosphere for guests to meet and interact with Tinker Bell.
Meeting Tinker Bell at her Magical Nook was a cherished moment for many visitors, especially young ones who had the chance to share their wishes and dreams with the mischievous and endearing fairy. Tinker Bell would pose for photos, sign autographs, and engage in playful interactions with guests, making the encounter truly magical and memorable.
The location also served as an opportunity for guests to learn more about the fairies of Pixie Hollow and the fantastical world they inhabited. Tinker Bell's joyful and adventurous spirit captivated guests of all ages, adding a touch of pixie dust to their visit to the Magic Kingdom.
---
Tinker Bell's Magical Nook | Disney World Details
Tinker Bell's Magical Nook | Disney World Experience:
---
---