Here is everything you need to know about the extinct Adventureland Veranda restaurant at Walt Disney World's Magic Kingdom including history, reviews, fun facts, photos and more. I hope you find this listing informative and helpful!
Description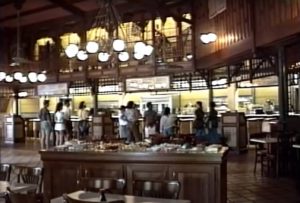 Adventureland Veranda was a dining establishment at Walt Disney World's Magic Kingdom theme park in the Adventureland area. It opened on October 1, 1971, along with the park and was operated by the restaurant chain, the Plaza Pavilion, until 1994. Afterward, it was operated seasonally for a few years before closing permanently.
The restaurant was located near the Jungle Cruise attraction and the Enchanted Tiki Room show, making it a convenient spot for guests exploring Adventureland. It was a table-service restaurant, offering a relaxing and shaded environment for visitors to enjoy a meal or a snack.
The Adventureland Veranda was known for its Polynesian-inspired menu, which featured a variety of tropical dishes and flavors. Guests could indulge in island favorites such as Polynesian ribs, teriyaki chicken, tropical fruit salads, and coconut-based desserts.
One of the highlights of dining at Adventureland Veranda was the beautiful views of the Jungle Cruise river and the lush landscape of Adventureland. The outdoor seating area allowed guests to immerse themselves in the tropical ambiance and escape to a far-off island paradise.
While Adventureland Veranda is no longer part of the dining options at Magic Kingdom, its memory lives on in the hearts of longtime Disney fans who enjoyed its unique atmosphere and delicious Polynesian-inspired cuisine during their visits to the park.
---
Fun Facts
The restaurant was sponsored by Kikkoman from 1977-1994.
---
Important Details
---