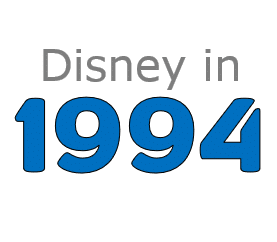 The Walt Disney Company has a rich and lengthy history with decades of amazing movies, shows and park experiences. To commemorate Disney's 100th birthday this year, I am spotlighting the company's history year by year in this new 'Disney by the Years' series.
Here is a quick rundown of everything that happened in the world of Disney in the year 1994. I hope you find this lookback in time helpful and entertaining.
Disney Company Headlines in 1994:
Tragedy struck the Walt Disney Corporation in April when the company's President and COO Frank Wells died in a helicopter accident. Disney CEO Michael Eisner will temporarily absorb Weiss' responsibilities.
Disney Movies Headlines in 1994:
Here is a quick rundown of what opened at the theaters in 1994 for Disney:
Disney:
Touchstone Pictures:
Hollywood Pictures:
Direct-To-Video Releases in 1994 Included:
Disney Parks Headlines in 1994:
The most notable news item related to Disney parks in 1994 was the company's announcement that they would be starting up a new Disney cruise line.
Disneyland Headlines:
Some of the major changes at Disneyland in 1994 included:
Disney World Headlines:
One of the most notable Disney World news items occurred in February, when Disney leased out the former Disney Inn to the US Department of Defense. The hotel was renamed Shades of Green and made available to US military members and their family.
Equally as noteworthy, Disney's Wilderness Lodge opened in May 1994 along with its popular Artist Point and Whispering Canyon Café restaurants.
Some of the other major changes at Disney World in 1994 included:
Here is a complete rundown of every ride, attraction, restaurant and shop at the Magic Kingdom over the years.
Also, in 1994, Disney broke ground on the Celebration, Florida project which was a residential development just outside Walt Disney World.
Disney Television Headlines in 1994:
A number of new Disney television shows and original movies made their debut in 1994. These included:
That's all for 1994. Stay tuned for in-depth looks at additional years in the very near future!