Here is everything you need to know about the amazing Disney series Gargoyles including casting, episodes, fun facts and more. I hope you find this listing informative and helpful!
Gargoyles Description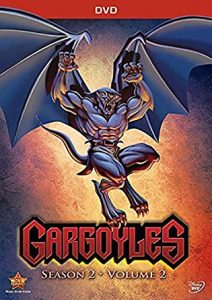 "Gargoyles" is an animated television series that aired from 1994 to 1997. The show was created by Greg Weisman and produced by Walt Disney Television Animation. It gained a dedicated fan base and is considered a cult classic among animated series.
The series combines elements of fantasy, action, drama, and mythology. It follows a group of gargoyles, mythical creatures that turn to stone during the day and come to life at night to protect their castle and the people of New York City.
The story begins in medieval Scotland, where the gargoyles are betrayed by humans and cursed to remain in stone form until their castle rises above the clouds. In modern times, billionaire David Xanatos moves the castle to the top of his skyscraper, inadvertently awakening the gargoyles.
Led by Goliath, the noble and wise gargoyle, the clan adapts to their new surroundings in New York City and forms an unlikely alliance with Detective Elisa Maza to combat various threats, including Xanatos and other villains.
"Gargoyles" is renowned for its intricate storytelling, well-developed characters, and its ability to tackle complex themes such as loyalty, prejudice, and redemption. The series also delves into historical and mythological elements, weaving together a compelling narrative that appeals to both children and adult audiences.
The show's dark and mature themes set it apart from other animated series of its time, contributing to its enduring popularity and dedicated fan following.
Despite its critical acclaim and loyal fan base, "Gargoyles" faced challenges in its later seasons, leading to its eventual cancellation after its third season. Nevertheless, the series remains highly regarded and is often cited as one of Disney's most beloved and innovative animated shows.
---
Gargoyles Cast:
Keith David: Goliath, Officer Morgan, Thailog
Salli Richardson: Elisa Maza, Delilah, Salli
Jeff Bennett: Brooklyn, The Magus, Vinnie, Owen Burnett
Bill Fagerbakke: Broadway
Thom Adcox-Hernandez: Lexington
Ed Asner: Hudson, Jack Danforth
Frank Welker: Bronx, Cagney, Gilgamesh, Gilly, Boudicca
Brigitte Bako: Angela
Marina Sirtis: Demona, Margot, Yale
Jonathan Frakes: Coyote, David Xanatos
---
Gargoyles Details:
Year of Debut: 1994
Year of Finale: 1996
Type of Series: Animated
TV Channel/Platform: Disney Afternoon
Gargoyles Trailer:
Buy Movie
---