Here is everything you need to know about the amazing Disney movie The Lion King including casting, reviews, fun facts and more. I hope you find this listing informative and helpful!
Description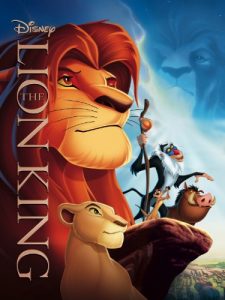 "The Lion King" is a 1994 animated musical film produced by Walt Disney Feature Animation. It is considered one of Disney's greatest classics and one of the most successful animated films of all time.
The film tells the epic story of Simba, a young lion cub who is destined to become the king of the Pride Lands. Simba's father, Mufasa, is the current king, and he teaches Simba about the circle of life and the responsibilities of being a ruler. However, Simba's uncle, Scar, is jealous of Mufasa and wants the throne for himself. He orchestrates a tragic event that leads to Mufasa's death and convinces Simba that he is to blame, causing him to run away from the Pride Lands.
In his self-imposed exile, Simba befriends Timon and Pumbaa, a meerkat and a warthog, who teach him a carefree lifestyle called "Hakuna Matata." As he grows up, Simba is reminded of his responsibilities and returns to the Pride Lands to confront Scar and take his rightful place as king.
"The Lion King" is celebrated for its breathtaking animation, powerful storytelling, and unforgettable musical score. The film's soundtrack, composed by Elton John with lyrics by Tim Rice, features iconic songs such as "Circle of Life," "Hakuna Matata," and "Can You Feel the Love Tonight," which won the Academy Award for Best Original Song.
The film's universal themes of love, loss, identity, and responsibility resonate with audiences of all ages and cultures. It became a cultural phenomenon and inspired numerous sequels, spin-offs, a successful Broadway musical, and a live-action adaptation.
"The Lion King" remains a timeless masterpiece that continues to captivate new generations with its powerful storytelling, vibrant characters, and awe-inspiring visuals, solidifying its place as one of Disney's greatest and most enduring films.
---
The Lion King Fun Facts
The film's story was inspired by William Shakespeare's play Hamlet, with Simba's journey mirroring that of Hamlet's son, Prince Hal.
The Lion King was one of the first Disney animated films to be produced using digital animation techniques, which allowed for more realistic character movements and environments.
The film spawned two direct-to-video sequels, The Lion King II: Simba's Pride and The Lion King 1½, as well as a stage musical adaptation which has become one of the most successful musicals of all time.
The Lion King has become a beloved classic and cultural phenomenon, with its characters and story remaining popular with audiences of all ages nearly 30 years after its release.
A remake of The Lion King was released in 2019, featuring a photorealistic computer-generated animation style and an updated voice cast that includes Donald Glover, Beyoncé, and Chiwetel Ejiofor.
---
Crew:
Directors: Roger Allers and Rob Minkoff
Producer: Don Hahn
Writers: Irene Mecchi, Jonathan Roberts and Linda Woolverton
---
Additional Details
---
The Lion King Trailer:
---