Here is everything you need to know about Walt Disney World's Animal Kingdom park's Festival of the Lion King show including history, fun facts, photos and more. I hope you find this listing informative and helpful!
Festival of the Lion King | Disney World Description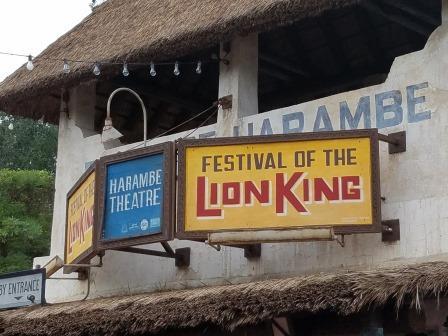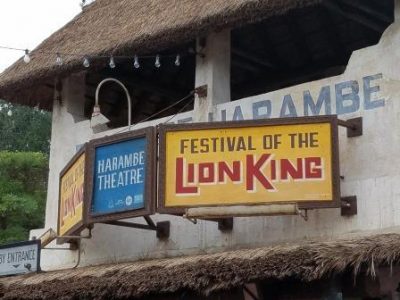 In the Festival of the Lion King, delight in the pageantry and puppetry of this big-as-Broadway show celebrating Simba, the lion cub who would be king!
Join the inhabitants of the Pride Lands for a grand celebration of The Lion King with songs from the film. This is a vibrant and exciting retelling of the tale of the cub who would be king, a lion prince fulfilling his destiny to become ruler—wildly presented by Simba and his friends in their own version of the story. From the opening number to the end, you're in for a variety of thrilling entertainment.
As the lights dim, the wind gently rushes through the African savannah and the sounds of the jungle come to life. A kaleidoscope of color floods the stage from colossal puppets, spirited dancers and regal stilt walkers in imaginative costumes—with ornate beads, feathers and fringe.
Zany Tumble Monkeys fling from the high bar, rings, and trapeze. A fire dancer twirls his torch with fire flaming from both ends. And audio-animatronic characters perform on enormous moving stages.
Between theatrics, Timon leads everyone in, "Hakuna Matata." Scar sings,"Be Prepared." And while Simba struggles to take his rightful place as ruler over the Pride Lands, feel your emotions swell to songs such as "Can You Feel the Love Tonight?", "I Just Can't Wait To Be King" and "The Lion Sleeps Tonight." The spectacular finale includes a heart-stirring rendition of "Circle of Life".
It's a fast moving show that gets you cheering and when it's over—you'll feel like one of the tribe!
---
Festival of the Lion King | Disney World Fun Facts
The large floats and audio-animatronics were built for Disneyland's The Lion King Celebration Parade.
The Harambe Theater is the second location for this show. It was originally located where Pandora is now in the extinct Camp Minnie-Mickey.
---
Festival of the Lion King | Disney World Details