Here is everything you need to know about Walt Disney World's Animal Kingdom park's Festival of the Lion King show including history, fun facts, photos and more. I hope you find this listing informative and helpful!
Description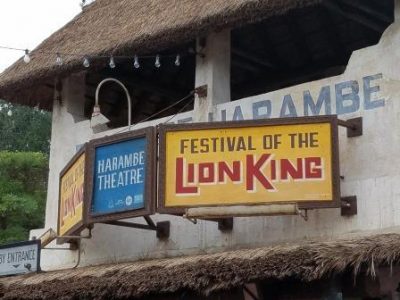 Festival of the Lion King is a spectacular and beloved stage show located at Disney's Animal Kingdom theme park in Walt Disney World Resort, Florida. The show premiered on April 22, 1998, to coincide with the park's opening and has since become one of the park's most popular and enduring attractions.
The show takes place in the Harambe Theater, located in the Africa section of Disney's Animal Kingdom. It is a vibrant celebration of the hit Disney animated film "The Lion King" and features a combination of live performances, puppetry, music, dance, and special effects.
The storyline of Festival of the Lion King revolves around four main animal hosts: Kiume, a powerful male lion; Nakawa, a graceful female bird; Kibibi, a playful female monkey; and Zawadi, a strong male warthog. They guide the audience through various scenes and musical numbers inspired by the movie.
The show includes high-energy performances of popular songs from "The Lion King," such as "Circle of Life," "Can You Feel the Love Tonight," "Hakuna Matata," and "I Just Can't Wait to Be King." These musical renditions are accompanied by stunning choreography and acrobatics performed by talented cast members.
One of the most memorable aspects of the show is the use of large and intricately designed puppetry to bring some of the beloved characters to life. The impressive puppets of Simba, Timon, Pumbaa, and other creatures create a magical and immersive experience for guests of all ages.
Festival of the Lion King is a must-see attraction for visitors to Disney's Animal Kingdom. The show's dynamic performances, captivating storytelling, and the opportunity to sing along to familiar tunes make it an unforgettable and heartwarming experience for the whole family.
---
Fun Facts
The large floats and audio-animatronics were built for Disneyland's The Lion King Celebration Parade.
The Harambe Theater is the second location for this show. It was originally located where Pandora is now in the extinct Camp Minnie-Mickey.
---
Important Details