Here is everything you need to know about Walt Disney World's Magic Kingdom's Mickey's Philharmagic show including history, fun facts, photos and more. I hope you find this listing informative and helpful!
Mickey's Philharmagic | Disney World Description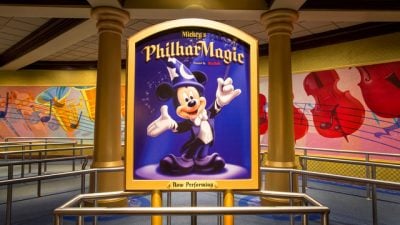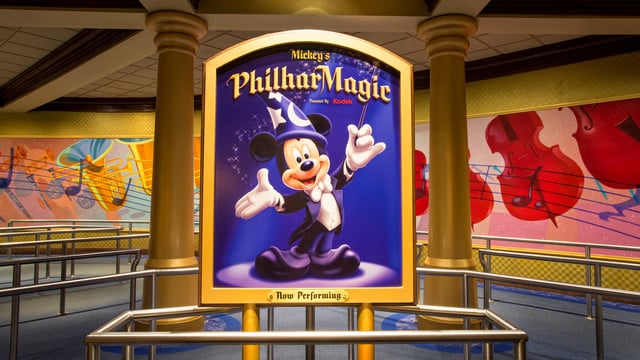 Mickey's PhilharMagic is a delightful 4D musical show and a must-see attraction located in various Disney parks around the world, including Magic Kingdom at Walt Disney World Resort in Florida. The show brings together some of Disney's most beloved animated characters and classic songs in a captivating and immersive experience.
The story of Mickey's PhilharMagic revolves around Donald Duck, who finds himself in charge of preparing the orchestra for a concert. As Donald takes the conductor's baton, he accidentally stumbles upon Mickey Mouse's sorcerer hat. When he puts on the magical hat, he is transported into a whimsical world of music and animation, embarking on a magical and musical adventure.
Throughout the show, Donald journeys through various iconic Disney animated films, such as "The Little Mermaid," "Beauty and the Beast," "Aladdin," "The Lion King," "Peter Pan," and more. Each scene is brought to life with stunning 3D visuals, incredible special effects, and a powerful surround sound system, immersing guests in the enchanting world of Disney animation.
As Donald encounters characters like Ariel, Simba, and Aladdin, he finds himself swept up in their musical escapades, adding his own comedic flair to the proceedings. The show culminates in a spectacular and heartwarming finale that celebrates the magic of Disney music and storytelling.
Mickey's PhilharMagic is not only a treat for the eyes and ears but also a nostalgic experience for Disney fans of all ages. The show's captivating animation and beloved songs, combined with Donald Duck's comedic antics, create a magical and memorable experience that leaves guests with a smile on their faces and a song in their hearts.
The Music
Join Donald Duck on a whirlwind tour of some of the most memorable songs in Disney animation history, including:
Be transported to a host of classic Disney settings—presented for the first time in stunning 3D—including:
Beast's Dining Hall
Ariel's Undersea Grotto
Simba's Africa
Peter Pan's Nighttime London
Aladdin's Agrabah
---
Mickey's Philharmagic | Disney World Fun Facts
Mickey's Philharmagic was directed by George Scribner, who also directed Oliver and Company.
The movie features that largest seamless screen in the world (150 feet long).
---
Mickey's Philharmagic | Disney World Details
Disney Character(s) in this Post:
Aladdin