Here is everything you need to know about the amazing Disney movie Fantasia including casting, reviews, fun facts and more. I hope you find this listing informative and helpful!
Fantasia Description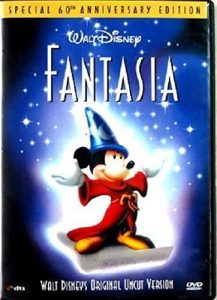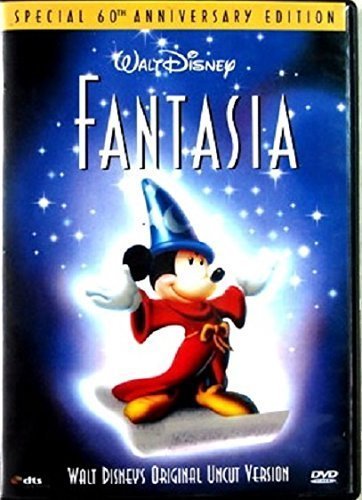 Fantasia is a landmark animated film produced by Walt Disney and released in 1940. It is an experimental and innovative film that combines classical music with stunning animation to create a unique and immersive visual and auditory experience. Fantasia consists of eight animated segments, each set to a different classical music piece, performed by the Philadelphia Orchestra conducted by Leopold Stokowski.
The segments of Fantasia include "Toccata and Fugue in D Minor" by Johann Sebastian Bach, "The Nutcracker Suite" by Pyotr Ilyich Tchaikovsky, "The Sorcerer's Apprentice" featuring Mickey Mouse, "Rite of Spring" by Igor Stravinsky, "The Pastoral Symphony" by Ludwig van Beethoven, "Dance of the Hours" by Amilcare Ponchielli, "Night on Bald Mountain" and "Ave Maria" by Franz Schubert.
Fantasia was groundbreaking for its time, as it used Technicolor and surround sound to enhance the cinematic experience. The film was a bold experiment by Walt Disney to push the boundaries of animation and create a new form of artistic expression.
Upon its initial release, Fantasia received mixed reviews and faced some criticism for its experimental nature. However, over the years, it has been recognized as a masterpiece and a significant achievement in the world of animation. It has since become a beloved classic and is regarded as one of the greatest animated films ever made.
Fantasia has been re-released several times over the years, and different segments have been shown separately in various Disney films and television shows. The success and impact of Fantasia paved the way for future animated films and solidified Disney's reputation as a pioneer in animation.
In 1999, Disney released Fantasia 2000, a sequel to the original film, featuring new animated segments set to classical music. Both Fantasia and Fantasia 2000 continue to captivate audiences of all ages with their timeless music and mesmerizing animation.
Songs:
Toccata and Fugue in D Minor, BWV 565 (Johann Sebastian Bach)
The Nutcracker Suite, Op. 71a (Pyotr Ilyich Tchaikovsky)
The Sorcerer's Apprentice (Paul Dukas)
Rite of Spring (Igor Stravinsky)
Jam Session Sequence
Symphony No. 6 ('Pastoral') Op. 68 (Ludwig van Beethoven)
Dance of the Hours (Amilcare Ponchielli)
A Night on Bald Mountain/Ave Maria (Modest Mussorgsky and Franz Schubert)
---
Fantasia Fun Facts
This was the first film shown in stereophonic sound.
Music was performed by the Philadelphia Orchestra.
There are more than 500 animated characters in the movie.
The original plan for Fantasia was for it to be updated and added to every few years. Aside from some small edits, it wasn't updated significantly until Fantasia 2000.
---
Fantasia Cast:
Deems Taylor
Walt Disney
Leopold Stokowski
---
Fantasia Crew:
Directors: Samuel Armstrong, James Algar, Bill Roberts, Paul Satterfield, Ben Sharpsteen, David D. Hand, Hamilton Luske ,Jim Handley, Ford Beebe, T. Hee, Norman Ferguson and Wilfred Jackson
Producers: Walt Disney and Ben Sharpsteen
Writers: Dick Huemer and Joe Grant
Music: Philadelphia Orchestra
---
Fantasia Details
Fantasia Trailer:
---