Here is everything you need to know about the amazing Disney movie Beauty And The Beast including casting, reviews, fun facts and more. I hope you find this listing informative and helpful!
Beauty And The Beast Description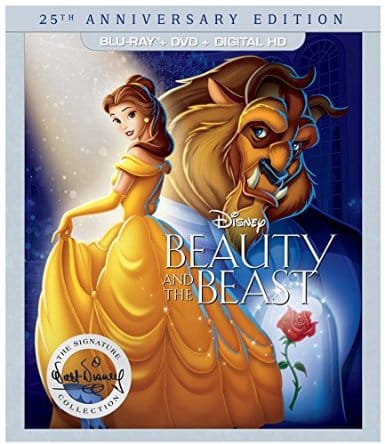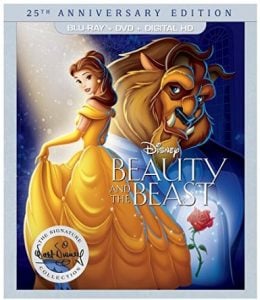 One of the most acclaimed and treasured animated films of all time is about to sweep you off your feet. In Disney's classic, Beauty and the Beast, follow the adventures of Belle, a bright young woman who finds herself in the castle of a prince who's been turned into a mysterious beast. With the help of the castle's enchanted staff, Belle soon learns the most important lesson of all – that true beauty comes from within. Be our guest and let the music you'll never forget and the characters who will fill your heart, cast a shimmering spell like never before.
---
Beauty And The Beast Fun Facts
"Beauty and the Beast" was the first animated film to be nominated for a Best Picture Academy Award, competing against live-action films in 1992.
The character of Belle was inspired by both Katharine Hepburn's character in "Little Women" and Julie Andrews' portrayal of Maria in "The Sound of Music."
The ballroom scene where Belle and the Beast dance is one of the most iconic moments in the film. The scene was created using a combination of hand-drawn animation and computer-generated imagery (CGI).
The famous song "Be Our Guest" almost didn't make it into the final film. The filmmakers initially thought the scene was too long and didn't fit with the rest of the story.
The Beast's design was inspired by several animals, including lions, wolves, and buffalo.
Belle's father, Maurice, was originally written as a more serious character, but the filmmakers decided to make him more eccentric and lovable to provide some comic relief.
Angela Lansbury, who voiced Mrs. Potts, initially didn't want to sing "Beauty and the Beast" because she felt her voice wasn't strong enough. However, the filmmakers convinced her to give it a try, and the song went on to win an Academy Award.
The film's opening prologue was inspired by stained glass windows from medieval churches.
The town in which Belle lives is called Villeneuve, which is a reference to the author of the original "Beauty and the Beast" fairy tale, Gabrielle-Suzanne Barbot de Villeneuve.
The film's production team spent three weeks in France to research the film's setting, architecture, and culture. The Beast's castle was modeled after the Château de Chambord in France.
---
Beauty And The Beast Cast:
Paige O'Hara: Belle
Robby Benson: the Beast
Richard White: Gaston
Jerry Orbach: Lumière
David Ogden Stiers: Cogsworth
Angela Lansbury: Mrs. Potts
Bradley Pierce: Chip
Rex Everhart: Maurice
Jesse Corti: LeFou
Jo Anne Worley: the Wardrobe
Hal Smith: Philippe
Mary Kay Bergman and Kath Soucie: the Bimbettes
Jack Angel, Phil Proctor, Bill Farmer and Patrick Pinney: Tom, Dick, Stanley, and Gramps
Brian Cummings: the Stove
Alvin Epstein: the Bookseller
Tony Jay: Monsieur D'Arque
Alec Murphy: the Baker
Kimmy Robertson: the Featherduster
Frank Welker: Sultan
---
Beauty And The Beast Crew:
Directors; Gary Trousdale and Kirk Wise
Screenplay: Linda Woolverton
Producer: Don Hahn
Music: Alan Menken
---
Beauty And The Beast Details
Beauty And The Beast Trailer:
---