Here is everything you need to know about the amazing Disney movie Beauty And The Beast including casting, reviews, fun facts and more. I hope you find this listing informative and helpful!
Beauty And The Beast Description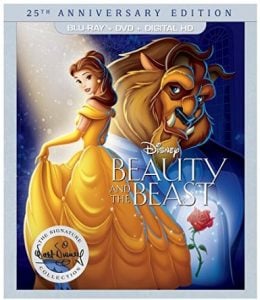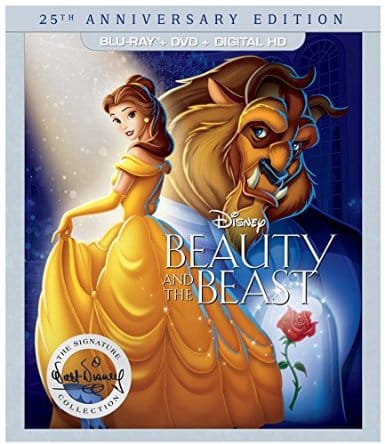 One of the most acclaimed and treasured animated films of all time is about to sweep you off your feet. In Disney's classic, Beauty and the Beast, follow the adventures of Belle, a bright young woman who finds herself in the castle of a prince who's been turned into a mysterious beast. With the help of the castle's enchanted staff, Belle soon learns the most important lesson of all – that true beauty comes from within. Be our guest and let the music you'll never forget and the characters who will fill your heart, cast a shimmering spell like never before.
Related Music:
---
Beauty And The Beast Cast:
Paige O'Hara: Belle
Robby Benson: the Beast
Richard White: Gaston
Jerry Orbach: Lumière
David Ogden Stiers: Cogsworth
Angela Lansbury: Mrs. Potts
Bradley Pierce: Chip
Rex Everhart: Maurice
Jesse Corti: LeFou
Jo Anne Worley: the Wardrobe
Hal Smith: Philippe
Mary Kay Bergman and Kath Soucie: the Bimbettes
Jack Angel, Phil Proctor, Bill Farmer and Patrick Pinney: Tom, Dick, Stanley, and Gramps
Brian Cummings: the Stove
Alvin Epstein: the Bookseller
Tony Jay: Monsieur D'Arque
Alec Murphy: the Baker
Kimmy Robertson: the Featherduster
Frank Welker: Sultan
---
Beauty And The Beast Crew:
Directors; Gary Trousdale and Kirk Wise
Screenplay: Linda Woolverton
Producer: Don Hahn
Music: Alan Menken
---
Beauty And The Beast Details
Beauty And The Beast Trailer:
Buy Movie
---