Here is everything you need to know about the amazing Disney movie Beauty And The Beast (Live-Action) including casting, reviews, fun facts and more. I hope you find this listing informative and helpful!
Beauty And The Beast (Live-Action) Description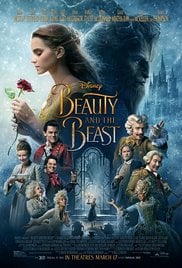 Disney's "Beauty and the Beast" is a live-action re-telling of the studio's animated classic which refashions the classic characters from the tale as old as time for a contemporary audience, staying true to the original music while updating the score with several new songs. "Beauty and the Beast" is the fantastic journey of Belle, a bright, beautiful and independent young woman who is taken prisoner by a beast in his castle. Despite her fears, she befriends the castle's enchanted staff and learns to look beyond the Beast's hideous exterior and realize the kind heart and soul of the true Prince within.
The film stars: Emma Watson as Belle; Dan Stevens as the Beast; Luke Evans as Gaston, the handsome, but shallow villager who woos Belle; Oscar® winner Kevin Kline as Maurice, Belle's eccentric, but lovable father; Josh Gad as Lefou, Gaston's long-suffering aide-de-camp; Golden Globe® nominee Ewan McGregor as Lumiere, the candelabra; Oscar nominee Stanley Tucci as Maestro Cadenza, the harpsichord; Gugu Mbatha-Raw as Plumette, the feather duster; six-time Tony Award® winner Audra McDonald as Madame Garderobe, the wardrobe; Oscar nominee Ian McKellen as Cogsworth, the mantel clock; and two-time Academy Award® winner Emma Thompson as the teapot, Mrs. Potts.
Directed by Oscar® winner Bill Condon and based on the 1991 animated film, the film is produced by Mandeville Films' David Hoberman and Todd Lieberman with eight-time Oscar-winning composer Alan Menken, who won two Academy Awards® (Best Original Score and Best Song) for the 1991 animated film, providing the score, which will include new recordings of the original songs written by Menken and Howard Ashman, as well as several new songs written by Menken and three-time Oscar winner Tim Rice. "Beauty and the Beast" will be released in U.S. theaters on March 17, 2017. (source)
---
Beauty And The Beast (Live-Action) Fun Facts
Beauty and the Beast is the highest grossing live-action musical of all time.
Beauty and the Beast is the second biggest musical of all time (behind Frozen).
This was the 2nd biggest movie of 2017.
The Beast costume weighed 40 lbs and required actor Dan Stevens to use stilts for much of the filming.
Believe it or not, this was not the highest-grossing film Emma Watson starred in (Harry Potter and the Deathly Hallows – Part 2 grossed $1.34 billion).
---
Beauty And The Beast (Live-Action) Cast:
Emma Watson: Belle
Dan Stevens: Beast
Luke Evans: Gaston
Kevin Kline: Maurice
Josh Gad: Le Fou
Ewan McGregor: Lumière
Stanley Tucci: Maestro Cadenza
Audra McDonald: Madame de Garderobe
Gugu Mbatha-Raw: Plumette
Ian McKellen: Cogsworth
Emma Thompson: Mrs. Potts
Hattie Morahan: Agathe
Nathan Mack: Chip
Adrian Schiller: Monsieur D'Arque
Gerard Horan: Monsieur Jean Potts
Haydn Gwynne: Clothilde
Michael Jibson: the Tavern Keeper
Ray Fearon: Père Robert
Sophie Reid, Rafaëlle Cohen, and Carla Nella: the Village Lasses
Jimmy Johnston, Dean Street, and Alexis Loizon: Tom, Dick, and Stanley
Zoe Rainey: Belle's mother
Clive Rowe: Cuisinier
Gizmo: Frou-Frou
Thomas Padden: Chapeau
Tom Turner: The King
Harriet Jones: The Queen
Chris Andrew Mellon: Nasty Headmaster
---
Beauty And The Beast (Live-Action) Crew:
Director: Bill Condon
Producers: David Hoberman and Todd Lieberman
Music by: Alan Menken
---
Beauty And The Beast (Live-Action) Details
Beauty And The Beast (Live-Action) Trailer:
---