Here is everything you need to know about the amazing Disney movie The Lion King (Live-Action) including casting, reviews, fun facts and more. I hope you find this listing informative and helpful!
The Lion King (Live-Action) Description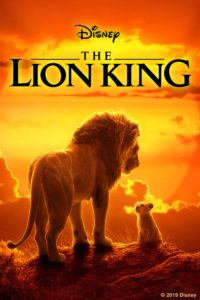 "The Lion King" (2019) is a live-action/CGI animated musical film produced by Walt Disney Pictures. While often referred to as a live-action film, it is primarily a photorealistic computer-animated remake of Disney's original 1994 animated film of the same name. Directed by Jon Favreau, the film features a star-studded cast, including Donald Glover as Simba, Beyoncé Knowles-Carter as Nala, and James Earl Jones reprising his role as Mufasa.
The film follows the same plot as the original "The Lion King," telling the epic journey of Simba, a young lion prince who must learn to embrace his responsibilities and reclaim his rightful place as king of the Pride Lands. Simba's journey is marked by self-discovery, friendship, and the understanding of the "Circle of Life."
The live-action version of "The Lion King" stands out for its groundbreaking visual effects, which create highly realistic animal characters and breathtaking African landscapes. The filmmakers used cutting-edge technology to give life to the animals, making the film visually stunning and emotionally impactful.
While the new version received mixed reviews from critics regarding its faithfulness to the original and lack of expression on the animals' faces, it was a commercial success, grossing over $1.6 billion worldwide. The film's release was met with enthusiasm from audiences, especially those who grew up with the original animated classic.
"The Lion King" (2019) captures the essence of the beloved story and characters, reminding viewers of the timeless tale of love, loss, and the cycle of life. It serves as both a homage to the classic animated film and a showcase of the latest advancements in visual effects technology, making it a memorable addition to Disney's live-action remake lineup.
---
The Lion King (Live-Action) Cast:
Donald Glover: Simba
Beyonce Knowles-Carter: Nala
James Earl Jones: Mufasa
Chiwetel Ejiofor: Scar
Alfree Woodard" Sarabi
John Oliver: Zazu
John Kani: Rafiki
Seth Rogan: Pumbaa
Billy Eichner: Timon
Eric Andre: Azizi
Florence Kasumba: Shenzi
Keegan-Michael Kay: Kamari
JD Mccrary: Young Simba
Shahadi Wright Joseph: Young Nala

---
The Lion King (Live-Action) Crew:
Directed by: Jon Favreau
Produced by: Jon Favreau, Karen Gilchrist, Jeffrey Silver
Screenplay by: Jeff Nathanson
---
The Lion King (Live-Action) Details
Movie Studio: Disney
Year Released: 2019
Type of Movie: Live-Action
Box Office: $1.657 billion
Awards: Nominated Golden Globe; Nominated Grammy Awards; Nominated Academy Award
The Lion King (Live-Action) Trailer:
---