Here is everything you need to know about Walt Disney World's Hollywood Studios' Tower of Terror ride including ride history, fun facts, photos and more. I hope you find this listing informative and helpful!
The Twilight Zone Tower of Terror Description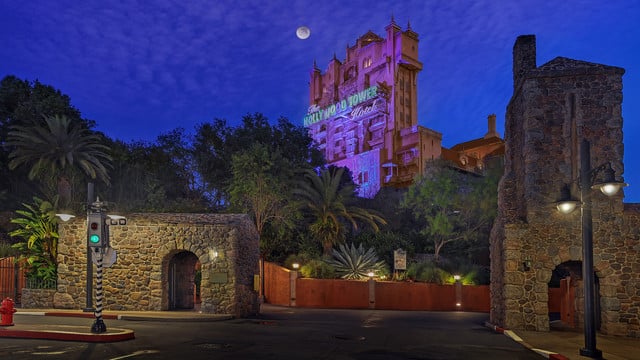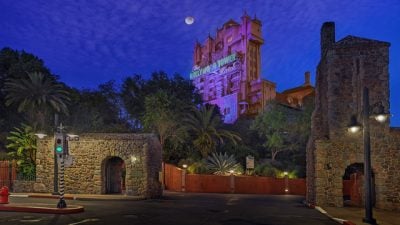 In Hollywood Studios' Twilight Zone Tower of Terror, hurtle up and down aboard a haunted, elevator-themed ride. You're about to enter… The Twilight Zone!
Hold on tight as you make your way into another dimension of sight and sound.
A Grand Re-Opening
Tour the infamous Hollywood Tower Hotel, the onetime haunt of Tinseltown's rich and famous until a mysterious incident forced it to close in 1939. Amble under the iron-wrought gates of the abandoned abode and wind your way through a neglected, weed-filled garden before stepping inside a dusty lobby, seemingly frozen in time.
Edge into a dark library with strange artifacts. As lightning illuminates the darkened room, a nearby television set springs to life and Rod Serling welcomes you on a journey into the Twilight Zone.
From a secret passage, trudge into the shadowy confines of the dilapidated boiler room, home to rattling machinery and your vessel into the 5th dimension. Enter the rickety, elevator-style lift and strap yourself in, light bulbs spookily flickering on and off above you.
Going Up?
Launch upward in darkness until the corroded doors unlock to expose a lengthy hallway inhabited by the otherworldly hotel inhabitants from 1939. Beckoning for you to join them, the spooky specters dematerialize and your skyward journey continues.
The 5th Dimension
At the 13th floor, a collection of sights and sounds inspired by the opening credits of The Twilight Zone come into view. Journey through this star-filled realm and prepare to discover what lies beyond the darkest corner of imagination.
Going Down!
Shriek in terror as you suddenly hurl down the abandoned shaft that unexpectedly changes direction and launches back up the hotel. Gaze out through a missing wall 13 stories high as the doors inexplicably open and close to reveal the hotel grounds. As if possessed by some unseen phantom, plummet down and speed upward over and over again, the sound of cables snapping and metal clanging overhead.
Will you make it back to the real world… or will you become a permanent resident of the Twilight Zone?
---
The Twilight Zone Tower of Terror Fun Facts
The Tower of Terror is 199 feet tall and is only .5 feet shorter than the tallest structure in Walt Disney World (Expedition Everest)
The voice of Rod Serling in the ride is not his. It is Mark Sliverman. Serling died 19 years before this ride was built.
The total drop of this ride is the equivalent of a 13-story building (130 ft).
The top drop speed of this ride is 39 mph.
A 1997 movie titled, "Tower of Terror," was based on this attraction.
---
The Twilight Zone Tower of Terror Details
---
---