Here is everything you need to know about Walt Disney World's Hollywood Studios' Tower of Terror ride including ride history, fun facts, photos and more. I hope you find this listing informative and helpful!
Description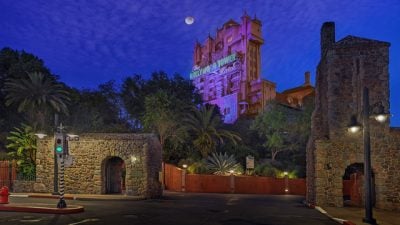 The Twilight Zone Tower of Terror is a thrilling and iconic attraction located in Disney's Hollywood Studios at Walt Disney World Resort. It is a visually stunning and immersive experience that combines elements of storytelling, suspense, and drop tower thrills.
The attraction is themed around the fictional Hollywood Tower Hotel and is inspired by the classic television series, The Twilight Zone. Guests are transported to 1939 and become part of the eerie narrative as they enter the grand hotel's lobby and board a mysterious service elevator.
Once aboard, the elevator takes guests on a suspenseful journey through a series of ghostly encounters and Twilight Zone-inspired scenes. As the story unfolds, guests experience sudden drops, thrilling ascents, and unexpected twists and turns, all accompanied by immersive theming and atmospheric effects.
The highlight of the attraction is the heart-stopping drop sequence. The elevator rises to the top of the tower before plummeting multiple stories in a thrilling freefall, creating a sensation of weightlessness and excitement for guests. The randomized drop sequences ensure that each ride experience is unique.
The Twilight Zone Tower of Terror showcases Disney's commitment to storytelling and immersion. The detailed theming, atmospheric music, and meticulously crafted environments transport guests into the eerie and suspenseful world of The Twilight Zone.
The attraction offers a balance of thrilling drops, captivating storytelling, and rich theming, making it a favorite among thrill-seekers and fans of The Twilight Zone. It is important to note that the ride experience can be intense and includes sudden drops, so it may not be suitable for all guests.
Overall, The Twilight Zone Tower of Terror provides an unforgettable and thrilling experience, combining suspense, storytelling, and thrilling drops to create a truly iconic attraction at Disney's Hollywood Studios.
---
Fun Facts
The Tower of Terror is 199 feet tall and is only .5 feet shorter than the tallest structure in Walt Disney World (Expedition Everest)
The voice of Rod Serling in the ride is not his. It is Mark Sliverman. Serling died 19 years before this ride was built.
The total drop of this ride is the equivalent of a 13-story building (130 ft).
The top drop speed of this ride is 39 mph.
A 1997 movie titled, "Tower of Terror," was based on this attraction.
---
Important Details
---