Here is everything you need to know about Walt Disney World's Animal Kingdom park's Expedition Everest ride including ride history, fun facts, photos and more. I hope you find this listing informative and helpful!
Expedition Everest | Disney World Description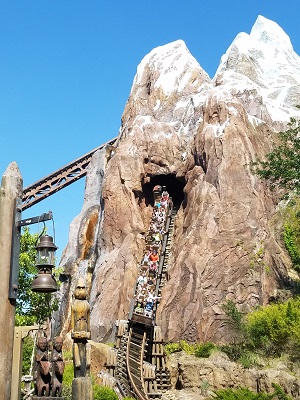 Careen through the Himalayan mountains on a speeding train while avoiding the clutches of the mythic Abominable Snowman.
Embark on a thrilling expedition through the icy peaks of the Himalayas.
Venture inside a Tibetan-style stone structure at the foot of towering Mt. Everest and make your way past the booking office of Himalayan Escapes – Tours and Expeditions. Wander past a small temple and a cozy general store before exploring a museum dedicated to the study of the Yeti, the mysterious snow monster said to inhabit the Himalayas.
The Adventure Begins
Board a weather-beaten train and ascend a series of rolling hills overlooking a serene green forest. Climb a steep incline and navigate through a ceremonial stone tunnel before reaching the summit. Once at the "top of the world," hold on tight as you pick up speed and race inside the dreaded mountain.
An Unexpected Encounter
Without warning, your train screeches to a halt: A broken and twisted track appears in front of you. Brace yourself as your train unpredictably begins to race backward into the darkened mountain, furiously swooping up into a double-looping turn. Inside the windswept passage, the shadowy figure of a growling creature can be seen on a cavern wall. It is the Yeti—the legend is real.
Hurl 80 feet down the base of the cursed mountain and swoop in and out of murky caves and along jagged rocky ledges as you race to escape the dreaded monster before he catches up with you.
Will you make it back to civilization safely? Or will the Yeti claim another victim?
---
Expedition Everest | Disney World Fun Facts
Expedition Everest was the most expensive roller coaster in the world when it was built.
This is the tallest of all the Disney World 'mountain' rides.
The height of Expedition Everest is 199.5 ft and its biggest drop is 80 ft.
Disney kept the mountain just under 200 ft tall to avoid having to place a blinking red beacon on it for planes.
The ride travels 50 mph at peak (10 mph slower than Rock 'n' Roller Coaster).
The ride vehicles hold 34 people per train.
The yeti is the largest audio-animatronic ever built by Disney.
The yeti hasn't worked properly since 2006.
---
Expedition Everest | Disney World Details
---