Here is everything you need to know about Walt Disney World's Hollywood Studios' Rock 'n' Roller Coaster ride including ride history, fun facts, photos and more. I hope you find this listing informative and helpful!
Rock 'n' Roller Coaster Starring Aerosmith | Disney World Description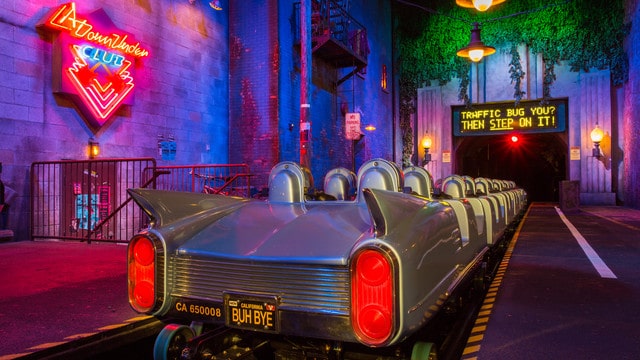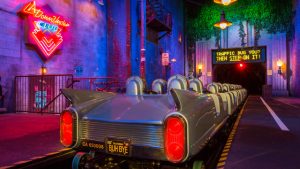 Race through the darkened freeways of Los Angeles in a super-stretch limo to the rockin' tunes of Aerosmith.
Rock and roll in the dark on your way to an Aerosmith concert, passing legendary landmarks along the way.
Tour the famed music studios of G-Force Records, where legendary rockers Aerosmith are wrapping up a recording session. When the band's manager informs the group that they're late for a concert on the other side of town, the rock band invites you to come along.
Upside Down In the Fast Lane
Hop inside a gleaming, super-stretch limo and hold on tight as you take off at a whopping 60 miles per hour into the Los Angeles night on your way to the big show—hard-rockin' grooves of Aerosmith echoing all around you.
Careen up and down into the inky, nighttime city darkness. Rocket through the famous Hollywood sign and speed past illuminated landmarks. Maneuver through city traffic and swoop in and around 3 thrilling inversions—2 rollover loops and one corkscrew—as the wind races across your face.
Will you make it to the concert event of the year in time?
---
Rock 'n' Roller Coaster Starring Aerosmith | Disney World Fun Facts
At a peak of 60 mph, this is the second-fastest ride in Disney World behind Epcot's Test Track.
The ride track is more than a half-mile (3,403 feet).
The ride vehicles hold 24 people.
---
Rock 'n' Roller Coaster Starring Aerosmith | Disney World Details
---
---