Here is everything you need to know about Walt Disney World's Hollywood Studios' Rock 'n' Roller Coaster ride including ride history, fun facts, photos and more. I hope you find this listing informative and helpful!
Description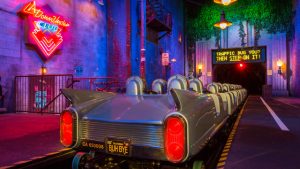 Rock 'n' Roller Coaster Starring Aerosmith is an indoor roller coaster attraction located at Disney's Hollywood Studios at Walt Disney World Resort. The coaster takes guests on a high-speed ride through darkened tunnels and neon-lit scenes, all while rocking out to the music of Aerosmith.
The ride begins with guests entering the G-Force Records recording studio and being welcomed by Aerosmith, who invite them to a concert across town. Guests board limousine-style coaster trains, which launch them from 0 to 57 miles per hour in just 2.8 seconds.
The coaster takes guests through a series of inversions, drops, and sharp turns, all while rocking out to Aerosmith's music blasting from speakers built into the trains. The ride features several themed scenes, including a freeway tunnel and a concert arena, all with impressive lighting and special effects.
The coaster track is over 3,400 feet long and the ride experience lasts approximately 90 seconds. It is a popular attraction at Disney's Hollywood Studios, especially among thrill-seekers and fans of rock music.
---
Fun Facts
At a peak of 60 mph, this is the second-fastest ride in Disney World behind Epcot's Test Track.
The ride track is more than a half-mile (3,403 feet).
The ride vehicles hold 24 people.
---
Important Details
---