Here is everything you need to know about Walt Disney World's Epcot's Spaceship Earth ride including history, fun facts, photos and more. I hope you find this listing informative and helpful!
Spaceship Earth Description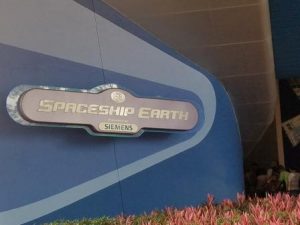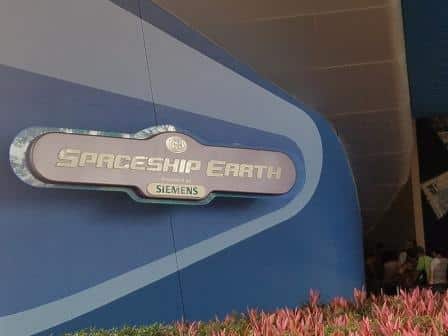 In Epcot's Spaceship Earth, travel in time and explore the history of communication on a ride that takes you from the Stone Age to the computer age.
Enter the iconic geosphere for a look at the landmark moments that made today's communications technology possible.
Travel back to the dawn of recorded history, when early man painted his thoughts on cave walls, the Egyptians invented papyrus and the Phoenicians devised the alphabet. See ideas spread like wildfire with the invention of Johannes Gutenberg's printing press, Greek systems of mathematics and the inspiring works of the masters of the Renaissance. The wheels of time turn ever faster as we progress to the modern age of media communications, from newspapers announcing the end of the Civil War to the televised broadcast of the moon landing and beyond.
Lifelike Audio-Animatronics displays and the soothing tones of narrator Dame Judi Dench give you an inspiring history lesson on this leisurely, 16-minute Omnimover-style ride.
Upon your return to Earth and the present day, you'll have the chance to design the kind of future you want to live in using the touch screen in front of you. Answer several brief questions then get ready to see what your tomorrow looks like!
---
Spaceship Earth Fun Facts
Number of tiles on Spaceship Earth: 11,324
Height of the structure: 180 ft.
Length of the ride: 15 minutes
It took 26 months to build Spaceship Earth.
The astronauts that were in the now-removed space station scene can now be found in Space Mountain.
The magic wand placed on the sphere in 2000, was 25-stories tall.
The magic wand decoration lasted from 2000-2007.
Sci-Fi author Ray Bradbury was instrumental in the story creation for Spaceship Earth.
The ride actually had a theme song, Tomorrow's Child, that played at the end of the ride from 1986-1994.
---
Spaceship Earth Details
Disney Resort: Walt Disney World Resort
Disney Park: Epcot
Attraction Type: Ride
Year Opened: 1982
Replaced: Original Attraction
---
---