Here is everything you need to know about the amazing Disney series Aladdin: The Series including casting, episodes, fun facts and more. I hope you find this listing informative and helpful!
Aladdin: The Series Description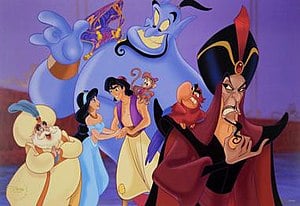 Aladdin: The Series is an animated TV series based on the 1992 Disney film "Aladdin." It originally aired on Disney Channel from 1994 to 1995, and follows the adventures of Aladdin, Princess Jasmine, and the Genie as they continue to battle the evil Jafar.
---
Aladdin: The Series Cast:
Aladdin: Scott Weinger
Princess Jasmine: Linda Larkin
Genie: Dan Castellaneta
Iago: Gilbert Gottfried
The Sultan: Val Bettin
Abu: Frank Welker
Eden: Valery Pappas
Dhandi: Debi Derryberry
Abis Mal: Jason Alexander
Haroud Hazi Bin: James Avery
Sadira: Kellie Martin
Mozenrath: Jonathan Brandis
Amin Damoola: Jeff Bennett
Mechanicles: Charlie Adler
Razoul / Prince Wazoo / The Sand Monster / Dominus Tusk: Jim Cummings
Arbutus / General Gouda: Ron Perlman
Khartoum: Tony Jay
Phasir: Ed Gilbert
Mirage: Bebe Neuwirth
Aziz: Michael Bell
Minos / King Zabar: Keith David
Fatima: Charity James
Uncouthma: Tino Insana
Chaos: Matt Frewer
Saleen: Julie Brown
Malcho: Héctor Elizondo
Caliph Kapok / Amok Mon Ra: Tim Curry
Thundra: Candi Milo
Queen Daluka: Tress MacNeille
---
Aladdin: The Series Details:
Year of Debut: 1994
Year of Finale: 1995
Type of Series: Animated
TV Channel/Platform: Disney Afternoon
Aladdin: The Series Trailer:
Buy Movie
---