Here is everything you need to know about the amazing Disney series Aladdin: The Series including casting, episodes, fun facts and more. I hope you find this listing informative and helpful!
Aladdin: The Series Description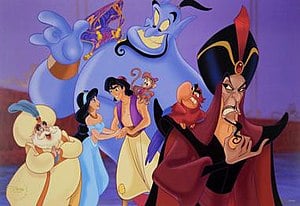 "Aladdin: The Series," also known as "Disney's Aladdin," is an animated television series based on Disney's hit film "Aladdin," released in 1992. The TV series premiered on the syndicated Disney Afternoon block in the fall of 1994 and aired for three seasons, concluding in 1995.
The series continues the adventures of Aladdin, the charming street rat turned prince, and his friends, Princess Jasmine, Genie, Abu, and Magic Carpet. The show is set in the fictional city of Agrabah, a vibrant and magical place inspired by Arabian folklore.
In "Aladdin: The Series," Aladdin and his friends face various challenges and adversaries, including the infamous villain Jafar, who repeatedly seeks revenge on Aladdin and attempts to steal the Genie's magical powers. Each episode typically features an exciting and humorous new escapade, where Aladdin uses his quick wit, bravery, and resourcefulness to outsmart his enemies and protect the people of Agrabah.
The TV series expands on the film's universe by introducing new characters and exploring the backstories of familiar ones. Viewers get to see more of Genie's life outside of the lamp and witness his humorous interactions with other inhabitants of Agrabah.
Throughout its run, "Aladdin: The Series" features themes of friendship, loyalty, and doing what's right, making it a family-friendly and engaging show for audiences of all ages. The series also includes moral lessons and values that align with Disney's storytelling tradition.
"Aladdin: The Series" is praised for its strong voice acting, catchy musical numbers, and the return of the beloved characters from the original film. It provides a delightful extension of the "Aladdin" story and captures the spirit of the animated film while offering new adventures and challenges for Aladdin and his friends.
The show's success led to several direct-to-video sequels and spin-off films, as well as further appearances of the characters in other Disney properties and theme park attractions.
Overall, "Aladdin: The Series" is a treasured part of Disney's animated television legacy, offering fans the opportunity to continue their journey through the enchanting world of Agrabah with Aladdin, Jasmine, and their beloved companions.
---
Aladdin: The Series Cast:
Aladdin: Scott Weinger
Princess Jasmine: Linda Larkin
Genie: Dan Castellaneta
Iago: Gilbert Gottfried
The Sultan: Val Bettin
Abu: Frank Welker
Eden: Valery Pappas
Dhandi: Debi Derryberry
Abis Mal: Jason Alexander
Haroud Hazi Bin: James Avery
Sadira: Kellie Martin
Mozenrath: Jonathan Brandis
Amin Damoola: Jeff Bennett
Mechanicles: Charlie Adler
Razoul / Prince Wazoo / The Sand Monster / Dominus Tusk: Jim Cummings
Arbutus / General Gouda: Ron Perlman
Khartoum: Tony Jay
Phasir: Ed Gilbert
Mirage: Bebe Neuwirth
Aziz: Michael Bell
Minos / King Zabar: Keith David
Fatima: Charity James
Uncouthma: Tino Insana
Chaos: Matt Frewer
Saleen: Julie Brown
Malcho: Héctor Elizondo
Caliph Kapok / Amok Mon Ra: Tim Curry
Thundra: Candi Milo
Queen Daluka: Tress MacNeille
---
Aladdin: The Series Details:
Aladdin: The Series Trailer:
Buy Movie
---