Jafar (Aladdin)
Last Updated on: February 14th, 2023

Who is Jafar?
Jafar is a fictional character and the main antagonist of Disney's 1992 animated feature film Aladdin. He is the Grand Vizier of the Sultan of Agrabah, and serves as the Royal Magician. He is known for his tall, thin frame, long black beard and snake-like appearance. He is power-hungry, manipulative, and seeks the lamp containing the genie to gain ultimate power and rule Agrabah. He is the archenemy of Aladdin, the titular character of the film. He is voiced by Jonathan Freeman in the original film and its sequels, as well as in the Disney Parks and other media. He is also one of the most iconic Disney villains.
Interesting Facts and Stats:
He has had one voice throughout the years: Jonathan Freeman
The Collection:
Here is the Internet's largest collection of Jafar-related movies, TV shows, toys and other products. As always, new pieces are added to this collection regularly.
Movie Appearances
---
---
---
---
---
Show Appearances
---
Park Appearances
---
---
---
---
---
Related Products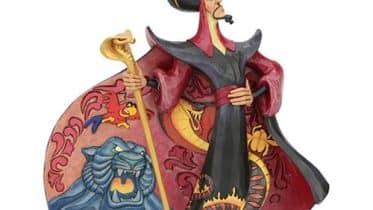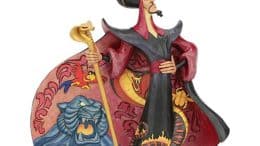 Enter, the villain of the piece. In an incredible creation artist Jim Shore appropriately calls "Villainous Viper," we find nefarious and deceptive sorcerer Jafar with…
---
---
---
In the News
'Aladdin' Sequel in the Works, February 13, 2020
---