Here is everything you need to know about Walt Disney World's Magic Kingdom's Jungle Cruise ride including history, fun facts, photos and more. I hope you find this listing informative and helpful!
Jungle Cruise | Disney World Description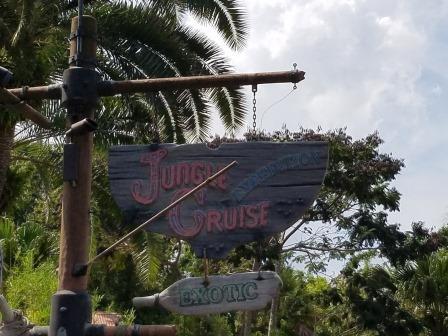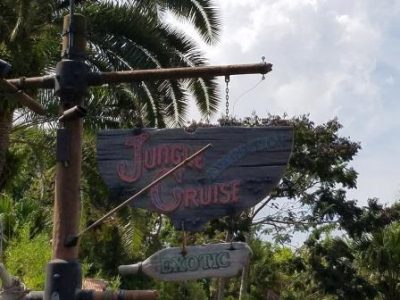 On the Jungle Cruise, located in Walt Disney World Magic Kingdom's Adventureland, set sail for high adventure on a scenic boat tour of the most exotic and exciting rivers across Asia, Africa and South America.
Embark on a cruise where hippos, elephants and maybe even a headhunter await your arrival.
Trek to a forgotten tropical jungle outpost—home to suspended cargo nets, wooden crates and lanterns—and board a canopied tramp steamer for a tongue-in-cheek adventure led by a trusty skipper through some of the world's most treacherous rivers.
A True-Life Adventure: During your 10-minute journey, encounter awesome wonders of nature amid some of the world's most exotic locales. Highlights of your adventure include:
The Amazon in South America: Drift past a canopy of green trees and flowering orchids where giant butterflies meet rushing waterfalls.
The African Congo: Tour an abandoned Pygmy site, glimpse a massive python and snap a picture of a camp overrun by curious gorillas.
The Nile River: Behold bathing elephants, angry hippos and hungry lions—but be on the lookout for a tribe of headhunters, recently spotted in the area.
The Mekong River: Explore an age-old shrine, home to baboons, cobras and other wild creatures.
Along the way, take in lively narration from your friendly skipper, known for a brave heart and a clever joke… or two. It´s a ride you won't soon forget!
---
Jungle Cruise | Disney World Fun Facts
The Jingle Cruise holiday overlay began in 2013.
There are 15 vehicles in the ride.
Skippers stopped carrying guns (to shoot at hippos) in 1999.
Jungle Cruise was originally a serious attraction with less jokes in the script.
The temple is unique to Disney World and not part of the Disneyland version.
---
Jungle Cruise | Disney World Details
---