Here is everything you need to know about the amazing Disney movie Zenon: Girl of the 21st Century including casting, reviews, fun facts and more. I hope you find this listing informative and helpful!
Description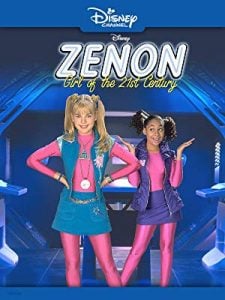 Zenon: Girl of the 21st Century is a Disney Channel Original Movie that premiered in 1999. It tells the story of Zenon Kar, a teenage girl who lives on a space station in the year 2049.
Zenon is a free-spirited and adventurous girl who loves spending time with her friends and causing mischief on the space station. However, when she discovers that the space station's owner plans to shut it down, Zenon must team up with her friends to save the station and their way of life.
The movie stars Kirsten Storms as Zenon Kar, along with several other actors, including Raven-Symoné and Greg Smith. It features a futuristic setting, catchy songs, and a positive message about the importance of standing up for what you believe in.
Zenon: Girl of the 21st Century was a major success for Disney Channel and spawned two sequels, Zenon: The Zequel and Zenon: Z3, which continued Zenon's adventures in space and on Earth.
---
Cast:
Kirsten Storms: Zenon Kar
Raven-Symoné: Nebula Wade
Stuart Pankin: Commander Edward Plank
Holly Fulger: Aunt Judy Cling
Frederick Coffin: Parker Wyndham
Bob Bancroft: Mr. Lutz
Greg Thirloway: Mark Kar
Phillip Rhys: Proto Zoa / Microbe
Gwynyth Walsh: Astrid Kar
Lauren Maltby: Margie Hammond
Danielle Fraser: Lynx
Brenden Richard Jefferson: Andrew
Blair Slater: Aquillat
Zach Lipovsky: Matt
Neil Denis: Leo
Gregory Smith: Greg
Kea Wong: Gemma
---
Crew:
Director: Kenneth Johnson
Producer: Thom Colwell
---
Additional Details
---
Zenon: Girl of the 21st Century Trailer:
---