Here is everything you need to know about the amazing Disney movie Zenon: Z3 including casting, reviews, fun facts and more. I hope you find this listing informative and helpful!
Zenon: Z3 Description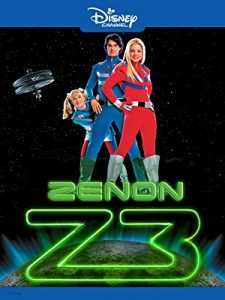 "Zenon: Z3" is a Disney Channel Original Movie (DCOM) that premiered in 2004. It is the third and final installment in the "Zenon" film series. The movie continues the adventures of Zenon Kar, a young girl who lives in the future on a space station called Space Station 9.
In "Zenon: Z3," Zenon is looking forward to a visit from her aunt, who is a pop star, and the rock band Proto Zoa. However, her plans are disrupted when a huge asteroid is heading towards the space station, putting everyone's lives in danger. Zenon must team up with her friends to find a way to save the station and its inhabitants.
The film features the return of Kirsten Storms as Zenon, along with other original cast members. It explores themes of friendship, courage, and problem-solving, while also offering a fun and adventurous story set in a futuristic space setting.
"Zenon: Z3" received positive reviews from audiences and remains a beloved DCOM among fans of the "Zenon" series. It is praised for its entertaining plot, likable characters, and positive messages for young viewers. The movie's success further cemented Zenon Kar as an iconic character in Disney Channel's lineup of original programming.
---
Zenon: Z3 Cast:
Kirsten Storms: Zenon Kar
Lauren Maltby: Margie Hammond
Raven-Symoné: Nebula Wade
Alyson Morgan: Dasha Plank
Stuart Pankin: Commander Edward Plank
Holly Fulger: Aunt Judy Cling-Plank
Glenn McMillan: Bronley Hale
Ben Easter: Sage Borealis
Nathan Anderson: Proto Zoa
Damon Berry: Pat Numbar
Phumi Mthembu: Cassie
Joanna Evans: Young Selena
Carol Reynolds: Selena
Nikki Joshua: Cosmic Blush
---
Zenon: Z3 Crew:
Director: Steve Rash
Producer: Christopher Morgan, Suzanne Coston and Suzanne de Passe
---
Zenon: Z3 Details
Zenon: Z3 Trailer:
---