Epcot Japan Pavilion
Last Updated on: May 31st, 2023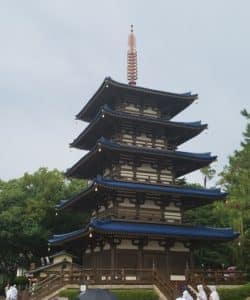 The Japan pavilion is a themed area located within Epcot, one of two theme parks at the Walt Disney World Resort in Lake Buena Vista, Florida. The pavilion is designed to showcase Japanese culture and history, and features a variety of attractions, experiences, and shops that are themed around Japan.
The Japan pavilion features several popular attractions such as the Mitsukoshi Department Store, a large store that sells a variety of Japanese-themed merchandise, including traditional clothing, toys, games, and souvenirs. There's also a Taiko drum performance, where guests can enjoy live performances of traditional Japanese drumming, and the Bijutsu-kan Gallery, a gallery that showcases Japanese art and artifacts.
The pavilion also includes the Teppan Edo, a table service restaurant that serves Japanese hibachi-style cuisine, and the Katsura Grill, a quick-service restaurant that serves a variety of Japanese-inspired dishes such as sushi, tempura, and ramen.
The Japan pavilion also features a serene Japanese garden that guests can explore, featuring a traditional Japanese stone garden, a koi pond, and a tea garden. The pavilion also features the Matsuriza, a performance group that performs traditional Japanese drumming and martial arts.
The Japan pavilion is a great place for those who are interested in Japanese culture and history. It offers a chance to explore Japanese heritage and culture in a fun and interactive way. The pavilion is designed to provide a sense of Japanese culture and heritage and educate guests on Japanese culture and history, it's a great place to learn more about Japanese culture, history, and art. It also allows guests to experience the traditional Japanese atmosphere, food and drinks.
Your complete guide to each of the attractions and restaurants, past and present, located in the Japan Pavilion in Walt Disney World's Epcot World Showcase.
---
---
---
---
---
---
---