Here is everything you need to know about the amazing Disney series Andi Mack including casting, episodes, fun facts and more. I hope you find this listing informative and helpful!
Andi Mack Description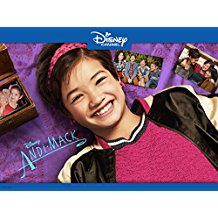 "Andi Mack" is a live-action television series that aired on Disney Channel from April 7, 2017, to July 26, 2019. The show was created by Terri Minsky and quickly gained popularity for its relatable and authentic storytelling, diverse characters, and thought-provoking themes.
The series follows the life of Andi Mack, a 13-year-old girl living in the fictional town of Shadyside, Utah. Andi's life takes an unexpected turn on her 13th birthday when she discovers a life-changing secret: her older sister, Bex, is actually her biological mother, and the woman she believed to be her mother is her grandmother, Celia.
Throughout the series, Andi navigates the challenges of adolescence, identity, and family dynamics as she grapples with the revelation about her true parentage. With the support of her friends Cyrus and Buffy, Andi learns to embrace her individuality and embrace the complexities of her family situation.
"Andi Mack" is known for its progressive and inclusive storytelling. The show addresses various sensitive topics, including self-discovery, friendship, peer pressure, cultural identity, and LGBTQ+ representation. Cyrus Goodman, one of Andi's best friends, becomes the first gay main character on Disney Channel, a significant milestone for the network.
The series is praised for its realistic portrayal of the teenage experience and its emphasis on the importance of open communication and empathy within families and friendships. It resonates with viewers by addressing real-life challenges and emotions that young audiences can relate to.
"Andi Mack" received critical acclaim for its engaging writing, talented cast, and its commitment to promoting positive messages and meaningful conversations among its audience. It was recognized for its positive influence on young viewers, encouraging them to embrace their individuality and celebrate their differences.
The show's success led to multiple seasons, further highlighting Disney Channel's dedication to creating authentic and impactful content that reflects the diversity and experiences of its audience.
Overall, "Andi Mack" is a groundbreaking and heartfelt series that has left a lasting impact on its viewers. Its positive representation and important messages continue to resonate with fans, making it a beloved and cherished part of Disney Channel's programming history.
---
Andi Mack Cast:
Peyton Elizabeth Lee as Andi Mack
Lilan Bowden as Rebecca "Bex" Mack
Lauren Tom as Celia Mack
Joshua Rush as Cyrus Goodman
Sofia Wylie as Buffy Driscoll
Asher Angel as Jonah Beck
Trent Garrett as Bowie Quinn
Stoney Westmoreland as Henry "Ham" Mack
Emily Skinner as Amber
---
Andi Mack Details:
Year of Debut: 2017
Type of Series: Live-Action
TV Channel/Platform: The Disney Channel
Andi Mack Trailer:
Buy Movie
---