Here is everything you need to know about the amazing Disney series Andi Mack including casting, episodes, fun facts and more. I hope you find this listing informative and helpful!
Andi Mack Description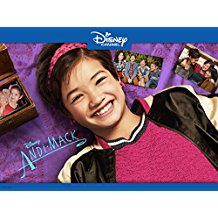 The warm, relatable and authentic stories of "Andi Mack," geared towards kids, tweens (age 6-14) and families, center on the most important things in any young person's life – family, friends and the journey of self-discovery.
Created and executive produced by writer Terri Minsky ("Lizzie McGuire"), the series' second season continues the contemporary coming-of-age story of a 13-year-old girl named Andi Mack who's trying to determine where she fits in and the many amazing ways she can live her life.
The series revolves around Andi Mack who, on the eve of her 13th birthday, learns that her older sister, Bex, is actually her mother. The shocking revelation sends Andi on an uncharted course of self-discovery. At least she's in good company; her best friends, Cyrus and Buffy, are also figuring out their places in the world.
In season one, Andi and her loving yet overprotective parents (now known to be her grandparents), Celia and "HAM," must learn to adjust to having Bex home. Andi, with Bex's encouragement, begins to step outside her comfort zone, particularly when it comes to approaching the most intriguing guy at Jefferson Middle School – Jonah Beck, whom she quickly realizes is dating a high school girl, Amber. Then Andi's father Bowie arrives to meet the daughter he never knew existed, and Andi dives headfirst into pursuing her picture-perfect happy ending.
In season two, Andi is anchored by her loving albeit complicated family. She's also in a trio with Cyrus and Buffy – her smart, supportive friends who are figuring out the most useful "hacks" to their young teen lives, too. Then suddenly, there's all-new territory for Andi to navigate – the possibility that Jonah Beck might like her, too.  Andi proves her greatest strength may lie in her ability to approach life's unpredictability with optimism. She also finds solace by tapping into her creativity in her backyard hideaway, the Andi Shack. (source)
---
Andi Mack Cast:
Peyton Elizabeth Lee as Andi Mack
Lilan Bowden as Rebecca "Bex" Mack
Lauren Tom as Celia Mack
Joshua Rush as Cyrus Goodman
Sofia Wylie as Buffy Driscoll
Asher Angel as Jonah Beck
Trent Garrett as Bowie Quinn
Stoney Westmoreland as Henry "Ham" Mack
Emily Skinner as Amber
---
Andi Mack Details
Year of Debut: 2017
Type of Series: Live-Action
TV Channel/Platform: The Disney Channel
Andi Mack Trailer:
Buy Movie
---