Here is everything you need to know about the amazing Disney series Bear in the Big Blue House including casting, episodes, fun facts and more. I hope you find this listing informative and helpful!
Bear in the Big Blue House Description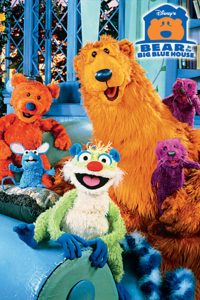 "Bear in the Big Blue House" is a beloved children's television series that aired on Disney Channel from October 20, 1997, to April 28, 2006. The show was created by Mitchell Kriegman and was produced by The Jim Henson Company.
The series centers around Bear, an affable and gentle giant who lives in a big blue house in the woods. Each episode of "Bear in the Big Blue House" follows a structured format that includes songs, interactive activities, and lessons about various themes, such as friendship, emotions, problem-solving, and hygiene.
Bear's house is home to a delightful cast of puppet characters, including Tutter the mouse, Ojo the bear cub, Pip and Pop the otters, and Treelo the lemur. Additionally, Bear's friendly and wise moon, Luna, often provides advice and guidance to him and the viewers.
Throughout the series, Bear engages with his friends and the young viewers, encouraging them to participate in activities, sing along to catchy songs, and explore important life lessons in a fun and engaging manner.
The show's warm and nurturing atmosphere creates a comforting and educational environment for its young audience. "Bear in the Big Blue House" is known for its focus on emotional intelligence, as it helps children identify and express their feelings, building their social and emotional skills.
The puppetry and animatronics used in the show are a hallmark of The Jim Henson Company's expertise, adding to the show's charm and appeal. Additionally, the original songs and music contribute to the show's popularity and memorable moments.
"Bear in the Big Blue House" received critical acclaim for its positive messages, creativity, and ability to resonate with preschool-aged children and their families. The show's success led to the creation of a live stage show, various merchandise, and even a DVD release.
Over the years, "Bear in the Big Blue House" has become a cherished part of Disney Channel's programming history, leaving a lasting legacy of warmth, learning, and friendship that continues to be fondly remembered by fans of all ages.
---
Bear in the Big Blue House Cast:
Bear: Noel MacNeal
Tutter: Peter Linz
Pip and Pop: Peter Linz and Tyler Bunch
Ojo: Vicki Eibner
Treelo: Tyler Bunch
Shadow: Peter Linz, Tara Mooney
Luna the Moon: Peter Linz, Lynne Thigpen
Ray the Sun: Peter Linz, Geoffrey Holder
---
Bear in the Big Blue House Details:
Year of Debut: 1997
Year of Finale: 2007
Type of Series: Live Action/Puppets
TV Channel/Platform: Playhouse Disney
Bear in the Big Blue House Trailer:
Buy Movie
---
---