Here is everything you need to know about the amazing Disney series Best Friends Whenever including casting, episodes, fun facts and more. I hope you find this listing informative and helpful!
Best Friends Whenever Description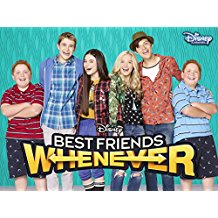 "Best Friends Whenever" is a live-action television series that aired on Disney Channel from June 26, 2015, to December 11, 2016. The show was created by Jed Elinoff and Scott Thomas and targeted a young audience, particularly tweens and teenagers.
The series revolves around the lives of two best friends, Cyd Ripley (played by Landry Bender) and Shelby Marcus (played by Lauren Taylor). After a mishap in a futuristic science lab, the girls gain the ability to time travel when they are together and performing a specific handshake. They can revisit the past and travel to the future, leading to many comedic and adventurous situations.
Throughout "Best Friends Whenever," Cyd and Shelby embark on time-traveling escapades that often result in hilarious misadventures and unexpected consequences. They use their time-traveling abilities to solve problems, fix mistakes, and help their friends and family.
In addition to time travel, the show also explores themes of friendship, loyalty, and the challenges of adolescence. The two protagonists experience typical teenage struggles while navigating their newfound powers.
Cyd and Shelby are joined by their close friends, Barry (played by Gus Kamp), Naldo (played by Ricky Garcia), and Daisy (played by identical twins Landry and Lauren Diaz), who often get entangled in the time-traveling shenanigans.
"Best Friends Whenever" aimed to entertain its target audience with a mix of humor, friendship, and sci-fi elements, and it also emphasized the value of strong bonds between friends.
While "Best Friends Whenever" had a relatively short run, it gained a dedicated fan base during its time on Disney Channel. The show provided wholesome entertainment for young viewers, and its time-traveling concept added a unique twist to the typical teenage comedy format.
As with many Disney Channel series, "Best Friends Whenever" left a positive and enjoyable impression on its viewers, contributing to Disney's legacy of creating family-friendly and relatable content for young audiences.
---
Best Friends Whenever Cast:
Landry Bender: Cyd Ripley
Lauren Taylor: Shelby Marcus
Gus Kamp: Barry Eisenberg
Ricky Garcia: Naldo Montoya
Benjamin Cole Royer: Bret Marcus
Matthew Lewis Royer: Chet Marcus
Mary Passeri: Astrid
Kevin Symons: Norm
Madison Hu: Marci
Larry Joe Campbell: Mr. Doyle
Nora Dunn: Janet Smythe
Bryana Salaz: Daisy
---
Best Friends Whenever Crew:
Creators: Jed Elinoff and Scott Thomas
Executive producers: Scott Thomas, Jed Elinoff and Michael B. Kaplan
Producer: Julie Tsutsui
---
Best Friends Whenever Details:
Year of Debut: 2015
Year of Finale: 2016
Type of Series: Live-Action
TV Channel/Platform: The Disney Channel
Best Friends Whenever Trailer:
Buy Movie
---
---