Here is everything you need to know about the amazing Disney series Big Hero 6 the Series including casting, episodes, fun facts and more. I hope you find this listing informative and helpful!
Big Hero 6 the Series Description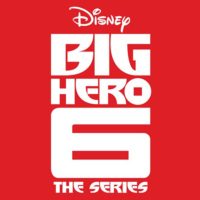 "Big Hero 6 The Series" picks up immediately following the events of Walt Disney Animation Studios' Academy Award®-winning film "Big Hero 6," continuing the adventures and friendship of 14-year-old tech genius Hiro and his compassionate, cutting-edge robot Baymax. Along with their friends – Wasabi, a sensible control freak whose specialty is physics; Honey Lemon, an optimistic and artistic scientist with a love for chemistry; Go Go, a no-nonsense, fearless speed genius who specializes in mechanical engineering; and Fred, a creative, science enthusiast – they form the legendary superhero team Big Hero 6,taking on new challenges and overcoming opposition in a world of evolving technology.
Set in the fictional city of San Fransokyo, a high-tech fusion of San Francisco and Tokyo, and featuring 2D animation that draws inspiration from various Japanese art styles, each 22-minute episode illuminates the unbreakable family bond among the Big Hero 6 team, a group of diverse individuals, each with distinct personalities. The series follows the friends as they embark on high-tech adventures and protect their city from an array of scientifically enhanced villains. Hiro, now juggling his newfound responsibilities of being a rookie superhero, also faces daunting academic challenges and social trials in his day-to-day life as a student at San Fransokyo Institute of Technology.  (source)
---
Big Hero 6 the Series Cast:
Maya Rudolph as Aunt Cass
Ryan Potter as Hiro
Scott Adsit as Baymax
Jamie Chung as Go Go
Alan Tudyk as Alistair Krei
Genesis Rodriguez as Honey Lemon
David Shaughnessy as Heathcliff
Stan Lee as Fred's dad
Khary Payton as Wasabi
Brooks Wheelan as Fred
Jenifer Lewis as Professor Granville
Haley Tju as Karmi
Andrew Scott as Obake
Andy Richter as Globby
---
Big Hero 6 the Series Crew:
Executive Producers: Mark McCorkle, Bob Schooley and Nick Filippi
---
Big Hero 6 the Series Details
Year of Debut: 2017
Year of Finale: 2021
Type of Series: Animated
TV Channel/Platform: Disney Channel
Big Hero 6 the Series Trailer:
---
Big Hero 6 the Series Episode List:
S1 E1: Baymax Returns
S1 E2: Issue 188
S1 E3: Big Roommates 2
S1 E4: Fred's Bro-Tillion
S1 E5: Food Fight
S1 E6: Muirahana Woods
S1 E7: Failure Mode
S1 E8: Aunt Cass Goes Out
S1 E9: The Impatient Patient
S1 E10: Mr Sparkles Loses His Sparkle
S1 E11: Killer App
S1 E12: Small Hiro One
S1 E13: Kentucky Kaiju
S1 E14: Rivalry Weak
S1 E15: Fan Friction
S1 E16: Mini-Max
S1 E17: Big Hero 7
S1 E18: Big Problem
S1 E19: Steamer's Revenge
S1 E20: The Bot-Fighter
S1 E21: Obake Yashiki
S1 E22:  Countdown to Catastrophe
S2 E26:  Internabout
S2 E27:  Seventh Wheel
S2 E28:  Prey Date
S2 E29:  Something's Fishy
S2 E30:  Nega-Globby
S2 E31:  The Fate of the Roommates
S2 E32:  Muira-Horror!
S2 E33:  Something Fluffy
S2 E34:  Supersonic Sue
S2 E35:  Lie Detector
S2 E36:  Write Turn Here
S2 E37–38: City of Monsters
S2 E 39: Mini-Maximum Trouble
S2 E 40: El Fuego
S2 E 41: The Globby Within
S2 E 42: Hardlight
S2 E 43: The Present
S2 E 44: Hiro The Villain
S2 E 45: Portal Enemy
S2 E 46: Fred the Fugitive
S2 E 47: Major Blast
S2 E 48: Fear Not
S2 E 49–50: Legacies
S3 E 51: The Hyper-Potamus Pizza-Party-Torium
S3 E52:  Mayor for a Day/The Dog Craze of Summer
S3 E53:  Trading Chips/Mini Noodle Burger Max
S3 E54:  A Friendly Face/Big Chibi 6
S3 E55:  Cobra and Mongoose/Better Off Fred
S3 E56:  Big Hero Battle/Go Go the Woweroo
S3 E57:  The New Nega-Globby/De-Based
S3 E58:  The MiSFIT/Return to Sycorax
S3 E59:  A Fresh Sparkles/Noodle Burger Ploy
S3 E60:  Krei-oke Night/The Mascot Upshot
---