Here is everything you need to know about the amazing Disney series Big Hero 6 the Series including casting, episodes, fun facts and more. I hope you find this listing informative and helpful!
Big Hero 6 the Series Description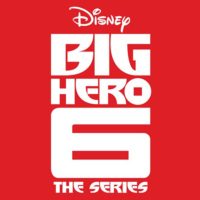 "Big Hero 6: The Series" is an animated television series based on Disney's 2014 animated film "Big Hero 6." The series premiered on Disney Channel on November 20, 2017, and continued on Disney XD. It was developed by Mark McCorkle and Bob Schooley, who also worked on the popular animated series "Kim Possible."
The show picks up immediately after the events of the "Big Hero 6" film, following the adventures of Hiro Hamada, a young robotics prodigy, and his inflatable healthcare companion, Baymax. Along with their friends Go Go Tomago, Wasabi, Honey Lemon, and Fred, they form the superhero team "Big Hero 6."
In "Big Hero 6: The Series," Hiro and his friends face various challenges, including battling high-tech villains and dealing with everyday problems. The series further explores the personal growth and development of the main characters as they balance their superhero responsibilities with their regular lives as students and young adults.
The show maintains the blend of action, humor, and heart from the original film while introducing new storylines and expanding on the characters' backgrounds. Hiro continues to learn about responsibility and leadership, while Baymax evolves to become a more assertive superhero.
Throughout the series, "Big Hero 6" faces formidable villains, such as the mysterious masked villain "Yokai" and the tech-savvy nemesis "Obake," who challenge the team both physically and emotionally.
"Big Hero 6: The Series" also features appearances and crossovers with other characters from the Marvel Comics universe, enhancing the interconnectedness of the Disney and Marvel universes.
The show received positive reviews for its engaging storytelling, strong character development, and the continuation of the endearing relationships between the team members. It captures the spirit of camaraderie and heroism that made the original film so popular among audiences.
As a Disney animated series, "Big Hero 6: The Series" offers a delightful extension of the "Big Hero 6" world, providing fans with new adventures and heartwarming moments that celebrate the power of friendship, teamwork, and doing what's right.
---
Big Hero 6 the Series Cast:
Maya Rudolph as Aunt Cass
Ryan Potter as Hiro
Scott Adsit as Baymax
Jamie Chung as Go Go
Alan Tudyk as Alistair Krei
Genesis Rodriguez as Honey Lemon
David Shaughnessy as Heathcliff
Stan Lee as Fred's dad
Khary Payton as Wasabi
Brooks Wheelan as Fred
Jenifer Lewis as Professor Granville
Haley Tju as Karmi
Andrew Scott as Obake
Andy Richter as Globby
---
Big Hero 6 the Series Crew:
Executive Producers: Mark McCorkle, Bob Schooley and Nick Filippi
---
Big Hero 6 the Series Details:
Year of Debut: 2017
Year of Finale: 2021
Type of Series: Animated
TV Channel/Platform: Disney Channel
Big Hero 6 the Series Trailer:
Big Hero 6 the Series Episode List:
S1 E1: Baymax Returns
S1 E2: Issue 188
S1 E3: Big Roommates 2
S1 E4: Fred's Bro-Tillion
S1 E5: Food Fight
S1 E6: Muirahana Woods
S1 E7: Failure Mode
S1 E8: Aunt Cass Goes Out
S1 E9: The Impatient Patient
S1 E10: Mr Sparkles Loses His Sparkle
S1 E11: Killer App
S1 E12: Small Hiro One
S1 E13: Kentucky Kaiju
S1 E14: Rivalry Weak
S1 E15: Fan Friction
S1 E16: Mini-Max
S1 E17: Big Hero 7
S1 E18: Big Problem
S1 E19: Steamer's Revenge
S1 E20: The Bot-Fighter
S1 E21: Obake Yashiki
S1 E22:  Countdown to Catastrophe
S2 E26:  Internabout
S2 E27:  Seventh Wheel
S2 E28:  Prey Date
S2 E29:  Something's Fishy
S2 E30:  Nega-Globby
S2 E31:  The Fate of the Roommates
S2 E32:  Muira-Horror!
S2 E33:  Something Fluffy
S2 E34:  Supersonic Sue
S2 E35:  Lie Detector
S2 E36:  Write Turn Here
S2 E37–38: City of Monsters
S2 E 39: Mini-Maximum Trouble
S2 E 40: El Fuego
S2 E 41: The Globby Within
S2 E 42: Hardlight
S2 E 43: The Present
S2 E 44: Hiro The Villain
S2 E 45: Portal Enemy
S2 E 46: Fred the Fugitive
S2 E 47: Major Blast
S2 E 48: Fear Not
S2 E 49–50: Legacies
S3 E 51: The Hyper-Potamus Pizza-Party-Torium
S3 E52:  Mayor for a Day/The Dog Craze of Summer
S3 E53:  Trading Chips/Mini Noodle Burger Max
S3 E54:  A Friendly Face/Big Chibi 6
S3 E55:  Cobra and Mongoose/Better Off Fred
S3 E56:  Big Hero Battle/Go Go the Woweroo
S3 E57:  The New Nega-Globby/De-Based
S3 E58:  The MiSFIT/Return to Sycorax
S3 E59:  A Fresh Sparkles/Noodle Burger Ploy
S3 E60:  Krei-oke Night/The Mascot Upshot
---