Here is everything you need to know about the amazing Disney series Bluey including casting, episodes, fun facts and more. I hope you find this listing informative and helpful!
Bluey Description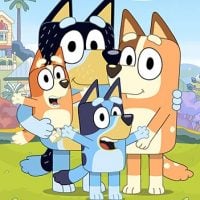 "Bluey" is an Australian animated television series that premiered on ABC Kids in Australia in October 2018. It was created by Joe Brumm and is produced by Ludo Studio. The show gained international popularity and was later picked up by Disney Channel and Disney Junior, introducing it to audiences worldwide.
The series follows the adventures of a lovable and energetic Blue Heeler puppy named Bluey, who lives with her family in the suburbs of Brisbane, Australia. Bluey's family consists of her parents, Bandit and Chilli, and her younger sister, Bingo.
"Bluey" focuses on the everyday experiences and imaginative play of Bluey and her family. Each episode typically revolves around a simple scenario or activity, such as playing games, going on family outings, or engaging in creative make-believe play.
The show celebrates the joy of childhood and the importance of play in a child's development. Bluey and her sister, Bingo, often use their vivid imaginations to transform everyday objects into fantastical worlds and go on exciting adventures together.
"Bluey" is known for its heartwarming stories, relatable family dynamics, and charming characters. The show's animation style is visually appealing, and its stories resonate with both children and parents.
In addition to its entertaining content, "Bluey" also emphasizes valuable life lessons for its young audience, such as resilience, problem-solving, empathy, and the significance of family bonds.
The show's positive reception and strong storytelling led to its success and critical acclaim, winning several awards, including an International Emmy Kids Award for Best Preschool Animation.
"Bluey" has become a favorite among families worldwide for its wholesome and enjoyable content. Its success showcases the power of quality children's programming in entertaining and educating young viewers while capturing the hearts of audiences of all ages.
---
Bluey Cast:
Bluey Heeler (uncredited child actor)
Bingo Heeler (uncredited child actor)
Bandit Heeler / Dad (David McCormack)
Chilli Heeler / Mum (Melanie Zanetti)
---
Bluey Crew:
Creator: Joe Brumm
Director: Joe Brumm and Richard Jeffrey
Executive Producers: Charlie Aspinwall, Daley Pearson, Michael Carrington and Henrietta Huford-Jones
---
Bluey Details:
Year of Debut: 2019
Type of Series: Animated
TV Channel/Platform: Disney+
Bluey Trailer:
---