Here is everything you need to know about the amazing Disney series Dave the Barbarian including casting, episodes, fun facts and more. I hope you find this listing informative and helpful!
Dave the Barbarian Description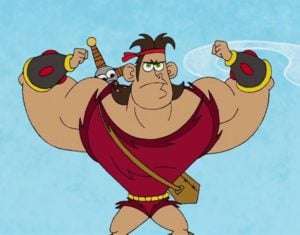 "Dave the Barbarian" is an animated television series that aired on Disney Channel from January 23, 2004, to January 22, 2005. The show was created by Doug Langdale.
The series is set in the fictional and comedic medieval land of Udrogoth and follows the adventures of Dave, a gentle-hearted and somewhat dim-witted barbarian warrior. Despite being physically powerful, Dave prefers a peaceful and non-violent lifestyle, which often leads to humorous situations and misunderstandings.
Dave's family includes his younger sister, Candy (voiced by Erica Luttrell), who is a highly skilled and intelligent warrior, and his younger brother, Fang (voiced by Danny Cooksey), who is a young sorcerer with a penchant for mischief.
Their parents, Throktar (voiced by Kevin Michael Richardson) and Glimia (voiced by Estelle Harris), are the king and queen of Udrogoth and often embark on their own crazy adventures.
The show's humor revolves around parodying fantasy and adventure tropes while incorporating modern references and pop culture elements. It also includes a fair share of slapstick comedy and absurd humor.
Throughout the series, Dave and his family face various challenges, including battling villains, encountering mythical creatures, and dealing with everyday problems in Udrogoth.
"Dave the Barbarian" received positive reviews for its clever writing, zany humor, and colorful animation style. The show's blend of fantasy, comedy, and adventure made it an entertaining and family-friendly series for viewers of all ages.
Although "Dave the Barbarian" had only one season, it developed a dedicated fan base and left a lasting impression on viewers who fondly remember the hilarious escapades of Dave and his unconventional family in the medieval world of Udrogoth.
---
Dave the Barbarian Details:
Dave the Barbarian Trailer:
---