Here is everything you need to know about the amazing Disney series Dog with a Blog including casting, episodes, fun facts and more. I hope you find this listing informative and helpful!
Dog with a Blog Description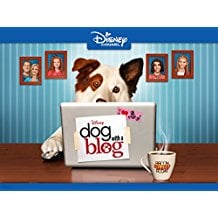 "Dog with a Blog" is a live-action comedy television series that aired on Disney Channel from October 12, 2012, to September 25, 2015. The show was created by Michael B. Kaplan and produced by It's a Laugh Productions.
The series follows the adventures of the James-Jennings family, who adopt a talking dog named Stan. What the family doesn't know is that Stan is no ordinary dog – he has the unique ability to talk and write in a blog, expressing his thoughts and observations about the family's daily life.
Stan (voiced by Stephen Full) becomes the family's secret confidante, providing insights and humor through his blog posts. As the family's secret keeper, Stan helps solve problems and create mischievous but well-intentioned antics to bring the family together.
The James-Jennings family consists of Tyler (played by Blake Michael) and Avery (played by G. Hannelius), who are step-siblings trying to navigate the ups and downs of teenage life. Their parents are Bennett (played by Regan Burns), a child psychologist, and Ellen (played by Beth Littleford), a fashion blogger.
The show combines family comedy, teenage drama, and Stan's unique perspective as a talking dog, making it an entertaining and family-friendly series.
"Dog with a Blog" received positive reviews for its humorous and heartwarming storytelling, as well as its ability to convey important messages about family, friendship, and acceptance. The show's central theme of love and unity within a blended family resonated with audiences, and Stan's witty remarks added an extra layer of humor and charm to the series.
As a popular Disney Channel show, "Dog with a Blog" developed a dedicated fan base and remains a fondly remembered series for viewers who enjoyed the adventures of the James-Jennings family and their extraordinary talking dog, Stan.
---
Dog with a Blog Cast:
G Hannelius: Avery Jennings
Blake Michael: Tyler James
Francesca Capaldi: Chloe James
Regan Burns: Bennett James
Beth Littleford: Ellen Jennings
---
Dog with a Blog Details:
Year of Debut: 2012
Year of Finale: 2015
Type of Series: Live-Action
TV Channel/Platform: The Disney Channel
Dog with a Blog Trailer:
Buy Movie
---
---