Here is everything you need to know about the amazing Disney series Earth to Ned including casting, episodes, fun facts and more. I hope you find this listing informative and helpful!
Earth to Ned Description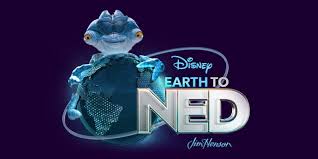 "Earth to Ned" is a comedic talk show that premiered on Disney+ on September 4, 2020. The show is a unique blend of a late-night talk show format and puppetry, created by Jim Henson's Creature Shop.
The series is hosted by Ned, a blue-skinned alien from the planet Ned who is sent to Earth to invade and conquer the planet. However, upon arriving on Earth, Ned becomes fascinated by human culture, particularly late-night talk shows and celebrity interviews. Instead of conquering Earth, he decides to host his own talk show in a secret underground studio.
Each episode of "Earth to Ned" features Ned interviewing two celebrity guests, who are real-life actors, musicians, athletes, or other public figures. The interviews are conducted in a humorous and light-hearted manner, with Ned's quirky and clueless alien personality leading to funny and unexpected moments.
The show also includes comedy sketches, musical performances, and interactions with Ned's loyal butler, Cornelius, and his artificial intelligence sidekick, BETI (Bio Engineered Technological Intelligence).
"Earth to Ned" stands out for its creative concept and puppetry, as well as its ability to provide fresh and entertaining celebrity interviews from a completely alien perspective.
The series has been praised for its originality, humor, and the way it blends celebrity interviews with puppetry and science fiction elements.
---
Earth to Ned Cast:
Ned: Paul Rugg
Cornelius: Michael Oosterom
BETI: Colleen Smith
---
Earth to Ned Crew:
Director: Bruce Leddy, Tom Stern
Executive Producers: Brain Henson, Vince Raisa, Allison Berkley, Joseph Freed
---
Earth to Ned Details:
Year of Debut: 2020
Type of Series: Live-Action
TV Channel/Platform: Disney+
Earth to Ned Trailer:
---