Here is everything you need to know about the amazing Disney series Fast Layne including casting, episodes, fun facts and more. I hope you find this listing informative and helpful!
Fast Layne Description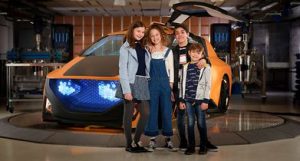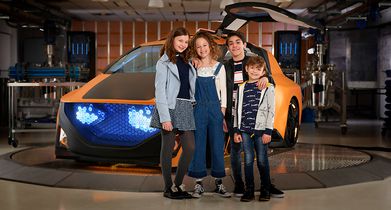 "Fast Layne" is a live-action science fiction adventure television series that premiered on Disney Channel on February 15, 2019. The show was created by Travis Braun and is part of Disney Channel's original programming lineup.
The series follows the story of Layne Reed (played by Sophie Pollono), a 12-year-old girl with a love for all things mechanical and a passion for racing. Layne lives with her single mother, Catherine (played by Sofia Rosinsky), and her quirky best friend, Zora Morris (played by Sofia Rosinsky).
One day, Layne discovers a talking car named VIN (Voice Integrated Neuro-tech) in an abandoned shed. VIN, voiced by NASCAR driver Tim Flock, is a super-intelligent and advanced car with its own personality and a deep knowledge of racing.
As Layne and Zora spend time with VIN, they unlock its extraordinary capabilities, turning it into a high-speed racing machine. The trio embarks on thrilling adventures, using VIN's unique abilities to compete in races and solve mysteries in their small town.
Throughout the series, Layne faces challenges and discovers the true meaning of friendship, teamwork, and the importance of believing in herself.
"Fast Layne" combines elements of science fiction, comedy, and action-adventure, appealing to young audiences with its fast-paced and engaging storyline. The show's empowering messages and diverse characters have been praised for their positive representation.
While "Fast Layne" had one season, it remains a part of Disney Channel's original programming and continues to be enjoyed by viewers who appreciate its blend of science fiction and racing-themed adventures, along with its themes of friendship and self-discovery.
---
Fast Layne Cast:
Sophie Pollono: Layne Reed
Sofia Rosinsky: Zora Morris
Brandon Rossel: Cody Castillo
Winslow Fegley: Mel
Nate Torrence: The voice of VIN
---
Fast Layne Crew:
Creator: Travis Braun
Executive Producers: Travis Braun, Matt Dearborn and Tom Burkhard
---
Fast Layne Details:
Year of Debut: 2019
Type of Series: Live-Action
TV Channel/Platform: Disney Channel
Fast Layne Trailer:
---