Here is everything you need to know about the amazing Disney series Girl Meets World including casting, episodes, fun facts and more. I hope you find this listing informative and helpful!
Girl Meets World Description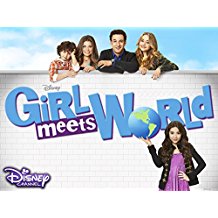 "Girl Meets World" is a live-action comedy television series that aired on Disney Channel from June 27, 2014, to January 20, 2017. The show is a spin-off and sequel to the beloved 1990s sitcom "Boy Meets World," which aired on ABC.
"Girl Meets World" continues the story of the original series, focusing on the daughter of the original main characters. The show follows Riley Matthews (played by Rowan Blanchard), the 12-year-old daughter of Cory Matthews (played by Ben Savage) and Topanga Lawrence (played by Danielle Fishel).
Set in New York City, the series revolves around Riley's experiences as she navigates the challenges and joys of middle school life, friendship, and family. She is joined by her best friend Maya Hart (played by Sabrina Carpenter), who is her polar opposite in personality but remains her loyal and supportive companion.
Cory, now a middle school history teacher, becomes the kids' teacher and mentor, offering valuable life lessons and guidance as they grow and face various adolescent dilemmas.
The show incorporates themes of friendship, self-discovery, and the importance of embracing one's individuality. It also explores relevant issues faced by today's preteens and teens, making it relatable to its target audience.
"Girl Meets World" struck a nostalgic chord with fans of "Boy Meets World" while also attracting a new generation of viewers. It featured several appearances and guest appearances from the original series' cast, including Ben Savage, Danielle Fishel, and William Daniels as the beloved Mr. Feeny.
Although "Girl Meets World" was well-received by fans, it was canceled after three seasons. Despite its relatively short run, the show remains cherished by viewers who appreciated its heartwarming and positive portrayal of growing up and the enduring lessons of friendship and family.
---
Girl Meets World Cast:
Rowan Blanchard: Riley Matthews
Ben Savage: Cory Matthews
Sabrina Carpenter: Maya Hart
Peyton Meyer: Lucas Friar
August Maturo: Auggie Matthews
Danielle Fishel: Topanga Matthews
Corey Fogelmanis: Farkle Minkus
---
Girl Meets World Details:
Year of Debut: 2014
Year of Finale: 2017
Type of Series: Live-Action
TV Channel/Platform: The Disney Channel
Girl Meets World Trailer:
Buy Movie
---
---