Here is everything you need to know about the amazing Disney series Good Trouble including casting, episodes, fun facts and more. I hope you find this listing informative and helpful!
Good Trouble Description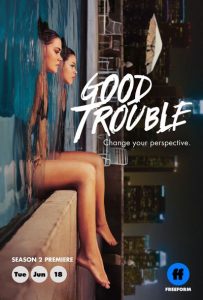 "Good Trouble" is a drama television series that premiered on Freeform on January 8, 2019. The show is a spin-off of the popular series "The Fosters" and was created by Joanna Johnson, Peter Paige, and Bradley Bredeweg.
The series follows the lives of two sisters, Callie Adams Foster (played by Maia Mitchell) and Mariana Adams Foster (played by Cierra Ramirez), as they move to Los Angeles to begin their adult lives. Callie is a talented and determined law clerk, while Mariana is a smart and ambitious software engineer.
Set in the vibrant and diverse backdrop of downtown Los Angeles, "Good Trouble" explores the challenges and triumphs that come with pursuing careers, navigating relationships, and finding one's identity in the modern world.
The show delves into a wide range of relevant and thought-provoking topics, including social justice, LGBTQ+ issues, workplace dynamics, racial inequality, and the complexities of relationships. It provides a realistic portrayal of the struggles and complexities faced by young adults as they strive to balance personal growth with professional aspirations.
"Good Trouble" has received critical acclaim for its authentic and nuanced storytelling, compelling characters, and its willingness to tackle timely and socially relevant issues. It has been praised for its diverse representation and its exploration of complex and multi-dimensional characters.
The series has resonated with audiences, particularly young adults, for its relatable and honest portrayal of the challenges and triumphs of early adulthood. It has sparked important conversations about social issues and has earned a dedicated fan base.
---
Good Trouble Cast:
Callie: Maia Mitchell
Mariana: Cierra Ramirez
Tommy Martinez: Gael
Sherry Cola: Alice
Zuri Adele: Malika
Roger Bart: Judge Wilson
---
Good Trouble Crew:
Director: Jon Chu
Producer: Jennifer Lopez
Creators: Joanna Johnson, Peter Paige and Bradley Bredeweg
Executive Producers: Gregory Gugliotta, Christine Sacani, Maia Mitchell, Cierra Ramirez, Jennifer Lopez, Elaine Goldsmith-Thomas and Benny Medina
---
Good Trouble Details:
Year of Debut: 2019
Type of Series: Live-Action
TV Channel/Platform: Freeform
Good Trouble Trailer:
---