Here is everything you need to know about the amazing Disney series Grown-ish including casting, episodes, fun facts and more. I hope you find this listing informative and helpful!
Grown-ish Description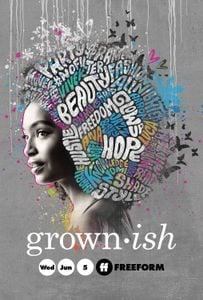 "Grown-ish" is a live-action comedy-drama television series that premiered on Freeform on January 3, 2018. The show is a spin-off of the popular ABC sitcom "Black-ish" and was created by Kenya Barris.
The series follows the life of Zoey Johnson (played by Yara Shahidi), the eldest daughter of Dre and Rainbow Johnson from "Black-ish." As Zoey heads off to college at the fictional California University, she experiences the challenges and adventures of navigating adulthood, independence, and the complexities of college life.
"Grown-ish" explores a wide range of topics relevant to young adults, including identity, relationships, social issues, academic pressures, and personal growth. The show delves into the experiences of Zoey and her diverse group of friends, each facing their own unique struggles and joys while adjusting to life as college students.
Throughout the series, "Grown-ish" addresses contemporary issues faced by college students, including racial and cultural identity, gender dynamics, mental health, and social justice, with a balance of humor and sincerity.
The show has been praised for its honest portrayal of the challenges and triumphs of young adulthood and its willingness to tackle relevant and thought-provoking subject matter. Yara Shahidi's performance as Zoey has been particularly acclaimed for her relatable and nuanced portrayal of a young woman coming of age.
"Grown-ish" has resonated with both young audiences and older viewers, as it touches on themes that are universally relevant. It has also been celebrated for its diverse representation and its authentic depiction of the college experience.
---
Grown-ish Cast:
Yara Shahidi: Zoey Johnson
Trevor Jackson: Aaron Jackson
Jordan Buhat: Vivek Shah
Emily Arlook: Nomi Segal
Francia Raisa: Ana Torres
Chris Parnell: Dean Parker
Deon Cole: Charlie Telphy
---
Grown-ish Crew:
Executive Producers: Kenya Barris, Anthony Anderson, Laurence Fishburne, Helen Sugland, E. Brian Dobbins and Julie Bean
Writers: Kenya Barris and Larry Wilmore
---
Grown-ish Details:
Year of Debut: 2018
Type of Series: Live-Action
TV Channel/Platform: Freeform
Grown-ish Trailer:
---