Here is everything you need to know about the amazing Disney series Higglytown Heroes including casting, episodes, fun facts and more. I hope you find this listing informative and helpful!
Higglytown Heroes Description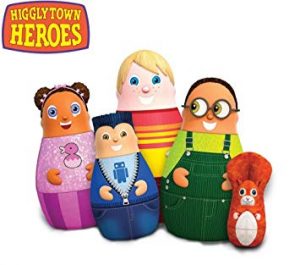 "Higglytown Heroes" is an animated children's television series that aired on Playhouse Disney (later rebranded as Disney Junior) from September 12, 2004, to May 6, 2008. The show was created by George Evelyn, Holly Huckins, and Denis Morella.
The series is set in the imaginative and colorful town of Higglytown, where a group of young children called the Higglytown Heroes goes on various adventures, learning important life lessons along the way. Each episode focuses on a specific problem or situation that the Higglytown Heroes encounter, and they rely on their creativity, teamwork, and problem-solving skills to overcome challenges.
The Higglytown Heroes consist of four main characters: Eubie (voiced by Rory Thost), a curious and inventive boy; Wayne (voiced by Frankie Ryan Manriquez), a kind and caring boy; Twinkle (voiced by Liliana Mumy), a compassionate and thoughtful girl; and Kip (voiced by Taylor Masamitsu), an energetic and enthusiastic boy. The Heroes also interact with various helpful and supportive community members known as the "Higglytown Helpers."
The show's episodes emphasize the importance of cooperation, friendship, creativity, and resourcefulness. Each adventure highlights a particular profession or job, introducing young viewers to the diversity of roles and responsibilities within a community.
"Higglytown Heroes" incorporates catchy songs and music that add to the show's appeal for its target audience of preschool-aged children. The show's positive messages and engaging storytelling aim to inspire young viewers to embrace teamwork and problem-solving in their everyday lives.
The animation style of "Higglytown Heroes" is unique, featuring characters with simplistic designs set against real-life photographic backgrounds, creating a visually distinct and whimsical look.
The show's focus on teamwork, problem-solving, and community engagement made it a popular choice for parents and educators seeking entertaining and educational programming for young children. "Higglytown Heroes" continues to be remembered fondly by those who watched it during its original run on Disney Junior.
---
Higglytown Heroes Cast:
Taylor Masamitsu: Eubie
Frankie Ryan Manriquez: Wayne
Liliana Mumy: Twinkle
Rory Thost: Kip
Edie McClurg: Fran
Jamie-Lynn DiScala: Ms. Fern
---
Higglytown Heroes Details:
Year of Debut: 2004
Year of Finale: 2009
Type of Series: Animated
TV Channel/Platform: Playhouse Disney
Higglytown Heroes Trailer:
Buy Movie
---
---