Here is everything you need to know about the amazing Disney series Hotel Transylvania: The Series including casting, episodes, fun facts and more. I hope you find this listing informative and helpful!
Hotel Transylvania: The Series Description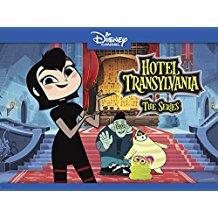 "Hotel Transylvania: The Series" is an animated television series based on the popular "Hotel Transylvania" film franchise. The show is a prequel to the movies and follows the adventures of Mavis, the teenage daughter of Count Dracula, and her friends at the hotel.
The series takes place before the events of the first "Hotel Transylvania" movie and features Mavis (voiced by Bryn McAuley) as a 114-year-old teenager. As Mavis's father, Count Dracula (voiced by David Berni), manages the hotel, Mavis and her friends Hank N Stein (voiced by Gage Munroe) and Pedro (voiced by Joseph Motiki) get into various misadventures and fun-filled escapades.
In "Hotel Transylvania: The Series," the three friends navigate the challenges of being young monsters while attending the "Hotel Transylvania Freaker's School." They encounter a wide range of supernatural creatures, face typical teenage problems, and find themselves in hilarious and spooky situations.
The show incorporates themes of friendship, self-discovery, and acceptance, celebrating diversity and uniqueness among monsters and humans alike. It also showcases the loving and sometimes overprotective relationship between Mavis and her father, Count Dracula.
"Hotel Transylvania: The Series" retains the humor and charm of the film franchise while expanding the world of the hotel and its inhabitants. The animation style is consistent with the films, featuring colorful and whimsical visuals that appeal to younger audiences.
The series has been well-received by fans of the "Hotel Transylvania" movies and new viewers, providing an entertaining and family-friendly extension of the beloved franchise. It offers young viewers an opportunity to explore the world of monsters, friendship, and fun in a safe and imaginative setting.
---
Hotel Transylvania: The Series Cast:
Bryn McAuley: Mavis
Evany Rosen: Wendy Blob
Gage Munroe: Hank N Stein
Joseph Motiki: Pedro
Dan Chameroy: Aunt Lydia
David Berni: Dracula
---
Hotel Transylvania: The Series Details:
Year of Debut: 2017
Type of Series: Animated
TV Channel/Platform: The Disney Channel
Hotel Transylvania: The Series Trailer:
Buy Movie
---
---