Here is everything you need to know about the amazing Disney series Johnny and the Sprites including casting, episodes, fun facts and more. I hope you find this listing informative and helpful!
Johnny and the Sprites Description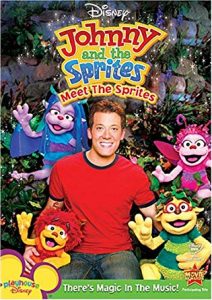 "Johnny and the Sprites" is a live-action musical television series that aired on Disney Channel's Playhouse Disney block from 2005 to 2009. The show was created by David Rudman and Todd Hannert and was aimed at preschool-aged children.
The series combines live-action performances with puppetry to tell the story of Johnny T (played by John Tartaglia), a young musician who stumbles upon a hidden world of magical creatures known as Sprites. The Sprites live in the Enchanted Forest, a special place hidden from the human world.
Johnny befriends the Sprites, who are colorful and playful creatures with their unique personalities and talents. The main Sprites include Ginger (voiced by Leslie Carrara-Rudolph), Basil (voiced by Tim Lagasse), Lily (voiced by Carmen Osbahr), and Root (voiced by John Tartaglia).
Each episode of "Johnny and the Sprites" centers around a particular theme or moral lesson, such as friendship, teamwork, problem-solving, or empathy. The show uses music and songs as a central element to convey these lessons and engage young viewers.
Johnny and the Sprites, along with their human friend Gwen (played by Heather Asch), embark on various adventures, often involving encounters with other magical creatures and overcoming challenges in the Enchanted Forest.
The show's warm and whimsical nature, along with its positive messages and catchy musical numbers, made it a popular choice for young children and their families. It promoted imaginative play, creative thinking, and understanding the value of kindness and respect for others.
In addition to the television series, "Johnny and the Sprites" included a live stage show at Disney theme parks, further engaging young audiences in the magical world of the Sprites.
---
Johnny and the Sprites Cast:
John Tartaglia: Johnny
Leslie Carrara-Rudolph: Ginger
Tim Lagasse: Basil
Carmen Osbahr: Lily
Heather Asch: Root
---
Johnny and the Sprites Details:
Year of Debut: 2007
Year of Finale: 2009
Type of Series: Live Action/Puppets
TV Channel/Platform: Playhouse Disney
Johnny and the Sprites Trailer:
Buy Movie
---
---