Here is everything you need to know about the amazing Disney series K.C. Undercover including casting, episodes, fun facts and more. I hope you find this listing informative and helpful!
K.C. Undercover Description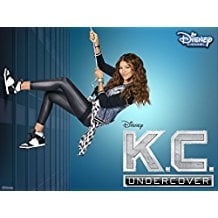 "K.C. Undercover" is a live-action spy comedy television series that aired on Disney Channel from January 18, 2015, to February 2, 2018. The show was created by Corinne Marshall and stars Zendaya in the title role.
The series follows K.C. Cooper (played by Zendaya), a high school student who also happens to be a highly skilled undercover spy for a secret government agency called The Organization. K.C.'s parents, Craig (played by Kadeem Hardison) and Kira (played by Tammy Townsend), are also former spies who have since retired.
As a spy, K.C. goes on various missions to protect the world from villains and threats. To balance her double life, she must keep her spy activities a secret from her friends, who are unaware of her true identity. K.C.'s brother, Ernie (played by Kamil McFadden), eventually discovers her secret and becomes her sidekick, assisting her on missions and providing comedic moments throughout the series.
Throughout the show, K.C. faces typical teenage challenges, such as school, friendships, and relationships, while also dealing with the demands of her spy work. She learns to juggle her responsibilities as a spy and a teenager, all while trying to keep her secret identity intact.
"K.C. Undercover" combines action, comedy, and family dynamics, offering an entertaining blend of spy missions and relatable coming-of-age themes. The show celebrates the importance of family, friendship, and staying true to oneself while showcasing strong female representation in a traditionally male-dominated genre.
As the lead role, Zendaya's performance received praise from audiences and critics alike. The show's engaging storytelling and diverse cast made it a popular choice among Disney Channel viewers.
---
K.C. Undercover Cast:
Zendaya: KC Cooper
Veronica Dunne: Marisa Clark
Kamil McFadden: Ernie Cooper
Trinitee Stokes: Judy Cooper
Tammy Townsend: Kira Cooper
Kadeem Hardison: Craig Cooper
---
K.C. Undercover Details:
Year of Debut: 2015
Year of Finale: 2018
Type of Series: Live-Action
TV Channel/Platform: The Disney Channel
K.C. Undercover Trailer:
Buy Movie
---
---