Here is everything you need to know about the amazing Disney series Kate and Mim Mim  including casting, episodes, fun facts and more. I hope you find this listing informative and helpful!
Kate and Mim Mim  Description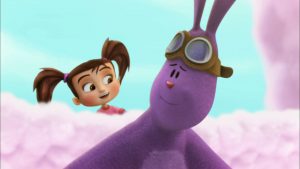 "Kate & Mim-Mim" is an animated children's television series that premiered on Disney Junior on December 19, 2014. The show was created by Scott O'Brien and is a co-production between Nerd Corps Entertainment and FremantleMedia Kids & Family.
The series follows the imaginative adventures of a young girl named Kate and her stuffed toy rabbit, Mim-Mim. Together, they journey to the fantastical world of Mimiloo, a vibrant and whimsical place filled with colorful characters and magical landscapes.
In Mimiloo, Kate's stuffed rabbit, Mim-Mim, magically transforms into a larger-than-life and energetic bunny companion. Mim-Mim's transformation helps Kate tackle challenges and explore new places, encouraging her imagination and creativity.
Throughout the series, Kate and Mim-Mim are joined by their friends Tack (a lively and talkative bluebird), Gobble (a friendly and cautious dinosaur), Boomer (a playful and curious robot), and Lily (a kind and caring human-like girl with butterfly wings).
The show's episodes revolve around themes of friendship, problem-solving, teamwork, and the power of imagination. Each adventure in Mimiloo teaches valuable life lessons to young viewers, encouraging them to embrace their creativity and work together to overcome obstacles.
"Kate & Mim-Mim" features bright and colorful animation, catchy songs, and imaginative storytelling, making it engaging and entertaining for preschool-aged children.
---
Kate and Mim Mim  Cast:
Maryke Hendrikse: Kate
Lee Tockar: Mim-Mim
Tabitha St. Germain: Lily
Brian Drummond: Gobble
Matt Hill: Tack
Nicole Oliver: Valerie
David Godfrey: Marco
Andrea Libman: Narrator
---
Kate and Mim Mim  Crew:
Creators: Julie and Scott Stewart
Director: Scott Stewart
Executive Producers: Julie and Scott Stewart
---
Kate and Mim Mim  Details:
Year of Debut: 2014
Year of Finale: 2018
Type of Series: Animated
TV Channel/Platform: Disney Junior
Kate and Mim Mim  Trailer:
Buy Movie
---