Here is everything you need to know about the amazing Disney series Katie and Orbie including casting, episodes, fun facts and more. I hope you find this listing informative and helpful!
Katie and Orbie Description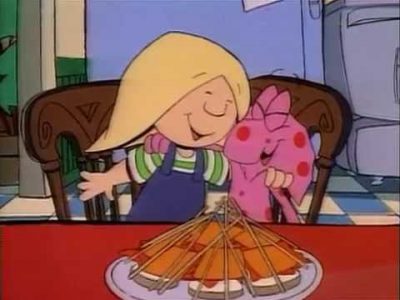 Katie and Orbie was a popular children's show on Playhouse Disney that ran from 1997-1999.
The series follows the adventures of Katie, a young girl, and her best friend Orbie, a magical flying green orb. Together, they explore the world around them and go on imaginative journeys to different places, both real and fantastical.
"Katie and Orbie" is known for its gentle and educational storytelling. Each episode features a simple and relatable storyline that introduces young viewers to new experiences and teaches them valuable life lessons. The show emphasizes themes such as friendship, empathy, problem-solving, and the joys of discovery.
Katie's relationship with Orbie is at the heart of the show, and their bond is showcased through their shared adventures and the emotional support they provide each other.
The animation style of "Katie and Orbie" is colorful and charming, with a focus on creating a safe and engaging visual environment for young audiences.
"Katie and Orbie" provided young viewers with a delightful and gentle introduction to storytelling and important life lessons, making it a beloved show in the hearts of many preschoolers and their families.
---
Katie and Orbie Cast:
Chris Wightman: Orbie
Amanda Tripp: Katie
Leslie Nielsen: Narrator
---
Katie and Orbie Details:
Katie and Orbie Trailer:
Buy Movie
---
---