Here is everything you need to know about the amazing Disney series Liv and Maddie including casting, episodes, fun facts and more. I hope you find this listing informative and helpful!
Liv and Maddie Description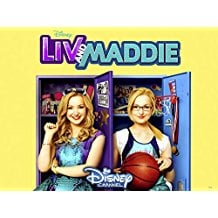 Liv and Maddie is a Disney Channel sitcom that aired from 2013 to 2017. Created by John D. Beck and Ron Hart, the show follows the lives of identical twin sisters Liv and Maddie Rooney, both portrayed by Dove Cameron.
Liv is a former Hollywood star who returns home to Stevens Point, Wisconsin, after her hit TV show ends. She strives to lead a normal life and attend high school like any other teenager. On the other hand, Maddie is an outstanding basketball player who is popular at school and a natural leader. The show focuses on the contrasting personalities and lifestyles of the two sisters as they navigate their high school years, family dynamics, friendships, and personal aspirations.
Throughout the series, Liv pursues an acting career while Maddie excels on the basketball team. The show explores themes of sibling rivalry, friendship, family, identity, and the challenges of teenage life. It also features a supporting cast, including the sisters' younger brother Joey (Joey Bragg), their parents Karen and Pete (Kali Rocha and Benjamin King), and their best friends Willow (Jessica Marie Garcia) and Diggie (Ryan McCartan).
Liv and Maddie received positive reviews for its comedic performances, relatable storylines, and positive portrayal of family relationships. It resonated with its target audience of young viewers and became a popular show on the Disney Channel.
---
Liv and Maddie Cast:
Dove Cameron: Liv/Maddie Rooney
Joey Bragg: Joey Rooney
Tenzing Norgay Trainor: Parker Rooney
Kali Rocha: Karen Rooney
Benjamin King: Pete Rooney
Lauren Lindsey Donzis: Ruby
---
Liv and Maddie Crew:
Creators: John Beck and Ron Hart
Producer: Greg Hampson
Executive Producers; John Beck, Ron Hart, Andy Fickman, Betsy Sullenger and John Peaslee
---
Liv and Maddie Details:
Year of Debut: 2013
Year of Finale: 2017
Type of Series: Live-Action
TV Channel/Platform: The Disney Channel
Liv and Maddie Trailer:
Buy Movie
---
---