Here is everything you need to know about the amazing Disney series Marvel Rising including casting, episodes, fun facts and more. I hope you find this listing informative and helpful!
Marvel Rising Description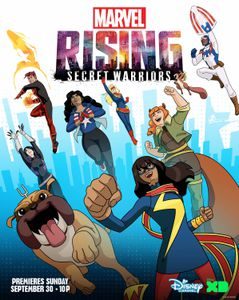 "Marvel Rising" is a multimedia franchise produced by Marvel Entertainment that features a diverse cast of young Marvel superheroes. The franchise was launched in 2018 and includes animated films, shorts, and comic books, targeting a younger audience while promoting inclusivity and representation.
The "Marvel Rising" franchise centers around the next generation of heroes, bringing together both established characters and newly introduced ones. The main characters include:
Ms. Marvel (Kamala Khan): A Pakistani-American teenager with shapeshifting abilities.
Squirrel Girl (Doreen Green): A cheerful and upbeat hero with the powers of a squirrel.
Spider-Gwen (Gwen Stacy): An alternate universe version of Gwen Stacy with spider-like abilities.
Quake (Daisy Johnson): A skilled agent with seismic powers.
America Chavez: A powerful hero with interdimensional abilities.
Patriot (Rayshaun Lucas): A young hero with enhanced strength and agility.
Inferno (Dante Pertuz): A teen with fire-controlling abilities.
Other characters, such as Ghost-Spider (Spider-Gwen's alias), Patriot, and Inferno, are introduced in the franchise to expand its diverse roster.
The "Marvel Rising" franchise includes animated films like "Marvel Rising: Initiation," "Marvel Rising: Secret Warriors," and "Marvel Rising: Chasing Ghosts." Additionally, there are animated shorts and comic book tie-ins that further explore the adventures and team-ups of these young heroes.
"Marvel Rising" is praised for its focus on diverse representation, empowering young characters, and showcasing the potential of the next generation of Marvel heroes. It promotes positive messages about teamwork, friendship, and embracing one's unique abilities.
The franchise has garnered a devoted fan base, particularly among younger audiences who appreciate the inclusive and empowering storytelling. "Marvel Rising" continues to be a significant part of Marvel's efforts to expand its diverse roster of characters and engage with a broader and more diverse audience.
---
Marvel Rising Cast:
Dove Cameron: Gwen Stacy/Ghost-Spider
Kathleen Khavari: Kamala Khan/Ms. Marvel
Kamil McFadden: Rayshaun Lucas/Patriot
Chloe Bennet: Daisy Johnson/Quake
Milana Vayntrub: Doreen Green/Squirrel Girl
Tyler Posey: Dante Pertuz/Inferno
BooBo Stewart: Victor Kohl/Exile
Cierra Ramirez: America Chavez
Skai Jackson: Gloria "Glory" Grant
Kim Raver: Carol Danvers/Captain Marvel
Ming-Na Wen: Hala
Steven Weber: Captain George Stacy
Dee Bradley Baker: Lockjaw/Tippy Toe
---
Marvel Rising Crew:
Supervising Director: Alfred Gimeno
Writer: Mairghread Scott
Executive Producers: Joe Quesada, Dan Buckley, Cort Lane and Eric Radomski
---
Marvel Rising Details:
Year of Debut: 2018
Year of Finale: 2019
Type of Series: Animated
TV Channel/Platform: DisneyXD
Marvel Rising Trailer:
---